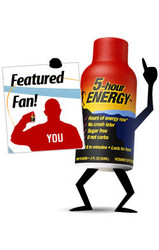 Farmington Hills, MI (PRWEB) December 1, 2009
After a staggering response from 5-Hour Energy fans in the initial search for the biggest 5-Hour Energy shot fanatics this past summer, the team at 5-Hour Energy is hosting another Featured Fan Contest. Winners will receive a 3-month supply of 5-Hour Energy and a personal Web page in the 5-Hour Energy Fan Zone.
To enter the Featured Fan Contest, 5-Hour Energy shot users must submit a photo and their story of 400 words or less explaining the when, where, why and how of their enthusiasm for 5-Hour Energy. Fans are also reminded to keep it clean.
The inaugural round of the Featured Fan Contest showed that fans come from all walks of life. Winners like roller derby brawler Crystal "Ivanna B. Vicious" Romain, over-the-road trucker Debra Moore and U.S. Army Staff Sgt. Travis Case gave the 5-Hour Energy team great insight into how diversified the shot's fanatics are and how 5-Hour Energy has helped in the daily struggle for alertness and energy. This time around it's no different. It doesn't matter what you do the team wants to hear it. Hopefuls should check out the 5-Hour Energy Contests page has more on the rules and conditions for Featured Fan hopefuls to look over before writing their story.
About 5-Hour Energy:
5-Hour Energy is a two-ounce energy shot that provides hours of energy and alertness with no crash* (we must include our usual crash disclaimers at the bottom of all press releases.) and no jitters. It contains a blend of B-vitamins and amino acids, zero sugar, and only four calories. It is available at retail outlets throughout the United States and Canada.
For more information, please visit: http://www.5hourenergy.com
Carl Sperber, Director of Corporate Communications
Living Essentials
38955 Hills Tech Drive
Farmington Hills, MI 48331
Phone: 248-960-1700
Fax: 248-960-1980
###