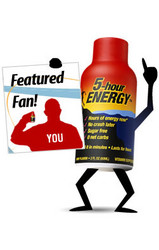 Farmington Hills, MI (Vocus) June 11, 2010
5-Hour Energy is on the search again for the energy shot's top fans from across the country in the 5-Hour Energy Featured Fan Contest launching on June 11.
The team at 5-Hour Energy appreciates how fans hail from all walks of life and each has a different passion, hobby, vocation and lifestyle that 5-Hour Energy shots play a role in. To highlight the diversity and individuality of the brand's fans, the 5-Hour Energy Featured Fan Contest is an open-casting call for anyone who thinks they are devoted and qualified brand ambassadors.
The application process to become a fresh face of 5-Hour Energy is all about letting fans showcase who they are and how 5-Hour Energy shots improve their lives. Contestants need to submit a photo of them in action, whether it's on the track, in the office or outside with the kids, along with their story of 400 words or less telling how 5-Hour Energy shots have played a role in their life.
Contest entries need to be submitted no later than 11:59 PM CST on July 19, 2010.
The 5-Hour Energy team will review the entries and then pick those who represent 5-Hour Energy's fans the best. Winners will get a personal spot in the 5-Hour Energy Fan Zone along side previously crowned featured fans where their stories and pictures will be shared with 5-Hour Energy fans around the world.
Not only does the Fan Zone boast 5-Hour Energy's top agents, it also features the 5-Hour Energy Racing team, 5-Hour Energy commercials, free 5-Hour Energy downloads, and best of all more contests for fans to snag prizes like a one-year supply of 5-Hour Energy shots and lots of swag. 5-Hour Energy contests are always free to enter and never disappoint when it comes to ease of entry, uniqueness of tasks and size of the prize.
About 5-Hour Energy:
5-Hour Energy is a two-ounce energy shot that provides hours of energy and alertness with no crash* and no jitters. It contains a blend of B-vitamins and amino acids, zero sugar, caffeine comparable to a cup of the leading premium coffee and only four calories. It is available at retail outlets throughout the United States and Canada.
*No crash means no sugar crash. 5-Hour Energy contains no sugar. Individual results may vary. For more information, please visit: http://www.5hourenergy.com
Contact Information:
Carl Sperber, Director of Corporate Communications
Living Essentials
38955 Hills Tech Drive
Farmington Hills, MI 48331
Phone: 248-960-1700
Fax: 248-960-1980
# # #