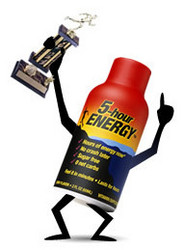 Farmington, MI (Vocus) June 4, 2010
The team at 5-Hour Energy Racing has decided to keep the competitive spirit on and off the track strong and will be giving fans another run at the energy shot's Racing Scavenger Hunt Contest.
This simple, yet at times puzzling contest challenges fans to have keen eyes as they search for 15 strategically placed 5-Hour Energy race car tokens. To test the mettle of NASCAR and energy shot fans, the 5-Hour Energy Racing crew has hidden the tokens throughout the 5-Hour Energy site, Blog, Facebook Fan Page, Twitter and more.
Each token is accompanied by a code number and a code word that fans will keep track of on the contest entry form. When all of the tokens are found, they can submit their form to be instantly entered to win a one-year supply of 5-Hour Energy shots and other great prizes. Entries need to be in by the final NASCAR Nationwide race of the season on Nov. 20.
5-Hour Energy fans have shown their determination in contests before, but being resourceful and knowing when to catch a draft to slingshot to the front of the pack can make all the difference. Much like 5-Hour Energy Racing driver Steve Wallace has a spotter giving him cues during a race, the 5HourEnergyGuy on Twitter will be there to help with hints when inquired by the competitors.
For those fans that want an even greater challenge and a chance to win one huge NASCAR weekend experience, the Weekly Race Results Contest is still rolling along, but now with a few changes that fans will appreciate.
This contest is a determination of stamina to see which fans could muster the focus for those 500-plus mile races. Contestants will have to list the position that the No. 66 5-Hour Energy car finished in from season-starting race at Daytona through the Oct. 23 Gateway 250. What is new about this contest is that before competitors had just two weeks after each race to enter the results, now there is no time limit. So new contestants can get on the grid and go back to the beginning of the Nationwide season and enter all of the finishing positions.
Those who have all of the correct positions listed at the contest's Oct. 30 deadline will be entered to win a last-race-of-the-season Miami getaway package that includes airfare and hotel for two plus $250 to score tickets to the last race of the season at Homestead-Miami Speedway or to spend however they choose.
About 5-Hour Energy:
5-Hour Energy is a two-ounce energy shot that provides hours of energy and alertness with no crash* and no jitters. It contains a blend of B-vitamins and amino acids, zero sugar, caffeine comparable to a cup of the leading premium coffee and only four calories. It is available at retail outlets throughout the United States and Canada.
*No crash means no sugar crash. 5-Hour Energy contains no sugar. Individual results may vary. For more information, please visit: http://www.5hourenergy.com
Contact Information:
Carl Sperber, Director of Corporate Communications
Living Essentials
38955 Hills Tech Drive
Farmington Hills, MI 48331
Phone: 248-960-1700
Fax: 248-960-1980
###