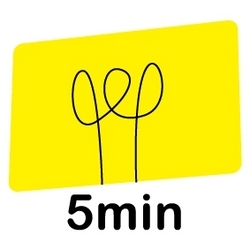 5min is delivering on the promise that online video can be an effective, targeted and measurable medium for advertisers and creators alike
New York, NY (PRWEB) December 2, 2008
5min, (http://www.5min.com), a leading destination site and distributor of online how-to videos, today announced its VideoSeed semantic syndication platform for instructional and knowledge video programming now reaches more than 110 million unique users a month via its vast network of comprehensive knowledge and information syndication partner sites. 5min pairs brand advertising with tens of thousands of professionally-produced, niche-specific "how-to" titles produced and licensed from hundreds of content partners for semantic delivery via the VideoSeed platform.
5min has closed syndication deals with horizontal sites such as Answers.com, wikiHow, Wikia and Articlesbase as well as vertical sites including Tim Carter's Ask the Builder, Recipe4Living and Pregnancy.org. Concurrently, 5Min has closed content agreements with Ford Models, Kiplinger's, Elle, Car & Driver, Petside, Britannica, Big Think, WatchMojo, Road & Track, Woman's Day and others.
5min believes VideoSeed's value proposition to brands lies in the idea that instructional content provides an ideal opportunity to advertise given how-to video audiences tend to be more engaged in the content and are typically close to making purchasing decisions.
The innovative approach taken by 5min evolves the model initially pioneered by broadcast cable networks for a broadband cable generation: Delivering relevant professionally-produced programming to passionate vertical audiences. Unlike user-generated video sites, all 5min content is reviewed, filtered and meta-tagged prior to syndication. The VideoSeed proprietary semantic technology crawls the text of every syndication partner's site ensuring only the most relevant, contextual videos are served to each individual page, thereby integrating 5min's content deep within the site itself. Videos are streamed through 5min's proprietary SmartPlayer™ enabling a viewing experience unmatched in the industry.
"5min is delivering on the promise that online video can be an effective, targeted and measurable medium for advertisers and creators alike," said Ran Harnevo, CEO and Co-Founder of 5min. "Having a video library is no longer enough to impress advertisers, especially chaotic libraries that have been improperly tagged or have questionable subject matter. The key to monetizing video for advertisers, creators and publishers is contextually-relevant distribution to enthusiast or inquisitive audiences proactively seeking a particular type of content. Google's AdSense was founded on this idea and now 5Min is doing the same for instructional video content."
"It is obvious that the Internet has become such a video-driven entity," said Gil Penchina, CEO of Wikia (http://www.wikia.com). "With broadband becoming ubiquitous, viewers and advertisers are looking for professional-quality videos. 5min provides Wikia an easy way to insert relevant video content that satisfies both."
As consumers become more conscious about unnecessary expenses, the popularity of do-it-yourself projects is expected to rise. A recent Online Publisher's Association report showed 54 percent of online video viewers watch at least one how-to video per month.
About 5min
Backed by Spark Capital, 5min develops technologies and platforms that power the targeted syndication and monetization of online video content. 5min is creating online vertical content networks which it programs with content-rich video on lifestyle interests including food, home, auto, tech, health, business, fashion, sports, music and arts among others. Having developed a proprietary semantic technology to power its VideoSeed distribution platform, 5min serves contextually-relevant video from its extensive destination site library of expert instructional titles licensed from the world's leading media studios and semi-professional independents. 5min's content is broadcasted on 5min.com and across its vast network of comprehensive knowledge and vertical interest site publishers.
Contact:
Wilson Cleveland
CJP Communications
+1.212.279.3115 x207
wcleveland@cjpcom.com
###