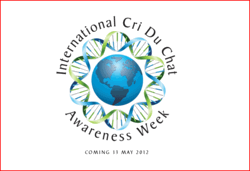 With the help of early intervention programs, children with the rare genetic disorder Cri du Chat are expected to live normal, healthy lives.
Lakewood, CA (PRWEB) May 09, 2012
When Sacramento area resident, Andrea Lembach's daughter Hailey was born in 2001, she knew right away something wasn't right. "The delivery room staff was in a panic. Hailey was blue, she had skin tags and an unusually small head," says Lembach.
At a visit to a geneticist a few months after Hailey's birth, Lembach was asked a curious question – how does the baby cry?
Lembach turned and said, "like a kitten, everyone says so." That's when Lembach's doctor gave her the news that Hailey has Cri du Chat Syndrome, a rare genetic disorder that affects only one in every 50,000 newborns.
Cri du Chat (also called 5p- Syndrome) is caused by a deletion in the "P" region of the fifth chromosome. French for "cry of the cat", the syndrome is named for the distinctive kitten-like sound that infants affected by the syndrome make when they cry.
Hailey's diagnosis was followed by a barrage of doctor visits, many of whom, relying on outdated information from the 1970's, incorrectly advised Lembach that Hailey would never walk or speak. One doctor even suggested that Lembach give Hailey up to an institution.
"We hear about this sort of thing all time," says Laura Castillo, Director of the 5p- Society, the U.S. support group for caretakers of individuals with Cri du Chat and mom to an adult daughter with the disorder. "Today, with the help of early intervention programs, including speech, occupational and physical therapies, children with Cri du Chat live with their parents and are expected to live healthy, normal lifespans," explains Castillo.
Because the syndrome is so rare, even in densely populated metropolitan areas like New York, Miami or Los Angeles, it's not uncommon for medical professionals to have never seen a case or even be aware the syndrome exists.
"We know from parents who find the Society after a diagnosis of Cri du Chat that the syndrome is frequently misdiagnosed for prolonged periods of time," says Castillo. "Or worse, doctors exasperate an already difficult situation by giving to parents, who are just learning that their child will have special needs, information that is dated and untrue."
Inspired by stories like Lembach's, Castillo started reaching out to Cri du Chat support organizations around the world in an effort to spread awareness about the disorder, in particular to the medical community. "The response was overwhelming," claims Castillo. Castillo's efforts led to support groups from over 15 countries co-sponsoring the First Annual Cri du Chat Awareness Week that begins on May 13, 2012.
To celebrate Awareness Week in the U.S., 5p- Society members are hosting a variety of events around the country that range from fundraisers to seminars for healthcare professionals. Says Castillo, "we're hoping that Awareness Week becomes a long-standing tradition for years to come."
After Hailey's diagnosis, Andrea Lembach enrolled her daughter into early intervention therapies with much success. Hailey, is now 11 years old. "She is a very happy and well-adjusted 5th grader," claims the proud mom. "Our family is very lucky to have her in our lives."
ABOUT THE 5P- SOCIETY AND INTERNATIONAL CRI DU CHAT WEEK
The 5p- Society (five p minus) is the support group for families and caretakers of individuals affected by Cri du Chat Syndrome (also known as 5p- Syndrome or Cat Cry Syndrome) and a co-sponsor of the First Annual International Cri du Chat Awareness Week that begins on May 13, 2012. The Society encourages and facilitates communication throughout the Cri du Chat community and spreads awareness and education about Cri du Chat Syndrome and best practices for treating those affected by it.
For more information about International Cri du Chat Awareness Week, including information for medical professionals about diagnosis and treatment of the syndrome, visit http://www.criduchat.org.