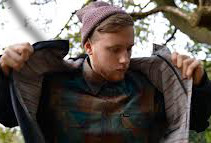 The new Holiday 2012 range, at 5 Pointz, features tees, shirts, chinos and outerwear, perfect for the cold snap.
Bristol, UK (PRWEB UK) 9 December 2012
5 Pointz, one of the leading online stores for streetwear and urban fashion in the UK, has introduced a brand new range from Brixton.
The indie Californian label was set up in 2004 by three friends who wanted to promote their carefree lifestyle to the wider world through a unique range of products that were fashionable, whilst remaining completely distinctive.
Inspired by vintage American fashion, and some punk rock attitude, Brixton clothing might be simple in design, but every piece is high quality, well constructed gear. Simple old school graphics are kept to a minimum, and an earthy palette of colours will work well this autumn winter.
The new Holiday 2012 range, at 5 Pointz, features tees, shirts, chinos and outerwear, perfect for the cold snap.
Highlights of the range include the 'Ridge Jacket' in black, a classic parka with a soft patterned lining and minimal woven logo label. Smart and simple but very effective when winter sets in.
The 'Archie Long Sleeved Shirt Hunter Plaid' is a classic American piece made from 100% cotton flannel in a box fit. A plaid pattern covers the shirt, made up of a unique marriage lesser know hues which really work together.
But Brixton are also famous for their headwear, including a range of old school caps, basic beanies and vintage style Fedora hats. The 'Gain Fedora Hat' in Moss Green is the perfect example of the new (or old) look that Brixton is bringing to the table. Complete with classic tonal band and feather decoration, this hat could be the perfect new centrepiece for an attention grabbing autumn winter wardrobe.
Pay a visit to the 5 Pointz online store today and discover Brixton along with a host of other major indie streetwear labels and heritage brands like Adidas Originals and Nike.
Throughout December 5 Pointz are offering free next day signed for delivery on all orders of £25 or more. This allows Christmas present shoppers to get their order in before the big day arrives. Better yet, the online store is also offering an extended returns policy. Any orders placed between now and Christmas can be returned at any time until 16 January. The usual returns policy on the condition of returned items still applies.