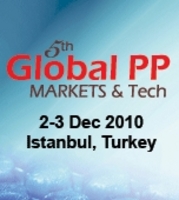 The 5th Global PP Markets & Tech is supported by the Turkish Plastics Manufacturers Research Development & Educational Foundation, and held in conjunction with Plasteurasia - TUYAP
Istanbul, Turkey (PRWEB) October 20, 2010
CMT is delighted to announce the 5th Global PP (Polypropylene) Markets & Technology conference, taking place in Istanbul, Turkey on 2-3 December 2010. Sponsored by Bayegan Group and Tricon Energy Ltd, the event is designed specifically to address the concerns of changing polypropylene market dynamics globally. Key industry leaders will convene at the conference to discuss PP market movement and trends, project status & feedstock supply/demand balance.
At the 5th Global PP Markets & Tech, delegates can look forward to updates on the different polypropylene project statuses and growth outlooks via country-focused topics on China, India, Turkey, Africa, Middle East, Russia, Latin America and USA.
The conference will also focus on new sources of polypropylene and the impact on world demand and supply, in view of the recent upsurge from increased Middle East capacities coming online. Additionally, upstream producers will have opportunities to interact face-to-face with end-users who will provide first-hand insights on PP applications in automotive, packaging films, and telecommunications, as well as their expectations of the resin suppliers.
Timely updates on innovations in PP technology, trends and strategies for packaging including returnable transport packaging (RTP), and developments in plastics conversion in Turkey will also be spotlighted during the 1½ days agenda.
Confirmed speakers for the highly-anticipated forum are:
-Tricon Energy Ltd
-Bayegan Group
-ING Commercial Banking
-CMAI
-Townsend Solutions
-Oriental Petrochemicals Company (OPC)
-PETKIM Petrokimya Holding AS
-Al Waha Petrochemical Co.
-Super film
-Schoeller ARCA Systems NV
-Lummus Novolen Technology GmbH
-Reliance Industries Limited, Turkey Liaison Office
-Petrochina Planning & Engineering Institute
-Turkish Plastics Manufacturers Research Development and Educational Foundation (PAGEV)
-Huawei Technologies Co. Ltd
The 5th Global PP Markets & Tech is supported by the Turkish Plastics Manufacturers Research Development and Educational Foundation, and held in conjunction with Plasteurasia - TUYAP. After day 2 of the conference, all participants interested to visit the Plasteurasia Istanbul 2010 Fair can take the complimentary shuttle bus arranged by the fair organizer directly to the TUYAP fair convention and congress center.
For queries on the program or for assistance with registration, please contact Lee Lin at +65 6346 9146.
# # #