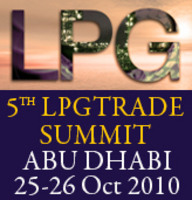 The long-awaited upsurge in LPG exports has finally begun. Increased supplies from the Middle East (especially Qatar and Abu Dhabi) are starting to reach the market. More production is also emerging from West Africa
(PRWEB) September 20, 2010
A new surge in LPG (liquefied petroleum gas) supplies from producers in the Middle East and even West Africa are contributing to the increase in LPG exports in the market. With the growth of demand for LPG, new opportunities and emerging markets are surfacing as the impact on the industry begins to reveal itself.
More than 15 industry executives consisting major producers, exporters and importers from various corporations will give their key updates at this year's 5th LPG Trade (liquefied petroleum gas) Summit conference in Abu Dhabi on 25-26 October. The conference is set to provide global stakeholders with latest updates on LPG major market-shapers, current growth analysis and future industry outlook.
With ADNOC (Abu Dhabi National Oil Company) as the official host for the 5th LPG Trade Summit, the conference's profile has taken another step towards being one of the most important LPG events in the region. Given their strong support for the event, ADNOC is hosting an exclusive Gala Dinner reception on the evening of 25th October for all conference speakers and participants. Additionally, ADNOC will also deliver the opening address on "Aspiring Production & Export Growth of Abu Dhabi's LPG" to be presented by Mr. Abdulla Sultan Al Nuaimi, a Gas Sales Manager who has been with ADNOC for 9 years and currently oversees the company's operations in Natural Gas and the LPG sales locally and internationally.
The 5th LPG Trade Summit offers focused updates on pertinent LPG market issues, including:
· Abu Dhabi: Growth of production and export strategy
· Impact from the rise in global LPG production from the Middle East & Corresponding Growth in Demand
· Evaluate the competitiveness of LPG as petrochemical feedstock, & update on the recovery of the petchem sector
· Growth of LPG usage in the transportation fuels market with focus on the growing India's market
· Gain insights on what's happening in China and India and how domestic production can dampen imports
· Opportunities available in emerging markets: Brazil and Oman
A new addition to this year's program is a separately bookable pre-conference workshop on "LPG Shipping Economics and Risk Management". The full-day program on the 24 October will be led by Dr Amir Alizadeh, BSc, Msc, PhD, thus providing an option for delegates who are arriving earlier for the ensuing two days event.
Another main highlight at the conference will be a panel discussion on the "Economics & Risk Management of LPG Shipping" by representatives from Poten & Partners, Viamar AS, Eagle Ocean Transport Inc., and A.P. Moller - Maersk A/S. Participants will also have the chance to hear from Mr Win Thein Maung, Executive Director of Morgan Stanley Capital Group Inc., as he present his topic on "Managing Risk Exposures & Building Successful Businesses in LPG".
Following a successful 4th LPG Trade Summit conference last year in Qatar which garnered almost 250 attendees, registrants can look forward to interact with key speakers and representatives from major LPG suppliers and traders speaking on the future LPG supply from their companies, and potentially discuss long-term supply contracts.
5th LPG Trade Summit is now accepting registrations for the conference, as well as enquiries on sponsorship packages, media partnerships and exhibition space. For further enquiries, contact Ms Nisha Goshawk at +65 6346 9130 for detailed information today.
###