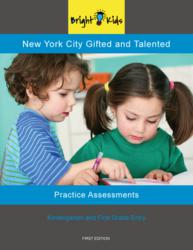 New York, NY (PRWEB) November 27, 2012
It's not too late to register for the Bright Kids NYC Gifted and Talented Bootcamp!
The Gifted and Talented program in New York City boasts some of the best public Elementary schools in the country, offering an excellent education without a private school price tag. Last year, 92 elementary schools throughout New York City offered Gifted and Talented classes. Securing a spot in the G&T program can be difficult, as the application process is increasingly competitive. Of the 39,000 students that applied in 2011, just over 8,000 qualified for the program.
The Bright Kids NYC Gifted and Talented Bootcamp is the solution to this problem, offering a budget-friendly option to prepare students for the OLSAT® and NNAT®2. It includes an initial diagnostic, tutoring sessions, a progress test, and books to continue the learning process at home. The bundle package offers up to a 32% discount off buying separately. There are extensive scheduling options, including slots available at both of our Manhattan locations.
The Gifted and Talented Bootcamp also boasts outstanding past results. Last year, 88% of Bootcamp participants qualified for G&T. Of those, over 50% scored in the 99th percentile. In addition, the program offers individualized curriculum and tutoring that is tailored to your child's needs. Students are evaluated using a diagnostic exam during the first session and a customized curriculum is written. A diagnostic write-up and written session reports from every session are available online at any time through our portal.
The NNAT®2 is a nonverbal measure of ability. Since the test does not require knowledge of English, it provides culturally neutral evaluation of reasoning, mathematics, and problem-solving skills. The NNAT®2 Level A given for Kindergarten contains questions including pattern completion, reasoning by analogy, serial reasoning, and spatial visualization. Since the NNAT®2 is a better measure of raw intelligence and does not discriminate against students who do not speak English as well; it is a more effective test than the BSRA to determine giftedness.
The NNAT®2 is paired with the OLSAT, a school achievement test meant to assess a student's ability to cope with school learning tasks. The Kindergarten-level OLSAT includes nonverbal subtests with analogies, classifications, series, and pattern matrices. It also includes verbal questions that challenge a student to follow directions, visualize situations, and complete math word problems. The OLSAT can be taken in a number of languages, including Mandarin, Spanish, and Arabic, allowing flexibility for ESL students.
The NYC Department of Education combines the NNAT®2 and OLSAT scores to create an overall score on the Gifted and Talented Exam that is used to determine placement into G&T programs. With the recent change from the BSRA to the NNAT®2, coupled with the OLSAT being offered in several languages, verbal ability or knowledge are no longer required to qualify for a G&T program. While the addition of the NNAT®2 will likely drop the number of students scoring in the 99th percentile, it will even the playing field for students whose English is not as strong,