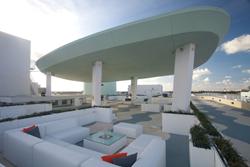 Lincoln Road ranked as the 10th most expensive retail street in the United States, according to a Cushman & Wakefield research report
Miami Beach, FL (PRWEB) March 05, 2016
Lincoln Road, along with Ocean Drive, is one of the two main destinations for visitors to Miami Beach. Amidst heightened demand for properties on this block, sits the rooftop of 605 Lincoln Road, a rare opportunity and regarded by many as Trophy Property.
"Lincoln Road is one of South Florida's most iconic streets. The 8-long block pedestrian walkway welcomes countless of residents and visitors throughout the year," said RelatedISG International Realty's Ines Hegedus-Garcia. "With the popularity of Lincoln Road in addition to the daily pedestrian traffic, this property offers itself as a prime commercial investment venue and opportunity."
Hegedus-Garcia specializes in architecturally significant properties and identifies the rooftop at 605 Lincoln Road as one of Miami Beach's historic gems and preferred destination for celebrities and high-profile clientele.
Property Information and Photos
https://www.dropbox.com/sh/wst08peax3ef13a/AACHfZ9k14AkwHJZg6zzNljea?dl=0
Property Website
http://605lincolnrdrooftop.com
Property Video
https://www.youtube.com/watch?v=X-v26PDrpKM
RelatedISG International Realty was founded in 2011 by International Sales Group principals Craig Studnicky and Philip J. Spiegelman, along with Jorge Perez, Chairman and CEO of The Related Group. This new corporation represents the merging of two of the most innovative and successful real estate organizations in the industry.
This unique partnership has resulted in an international network of realtors boasting unparalleled sales expertise and superior marketing research in today's upscale residential market place.
RelatedISG Intl Realty's marketing reach extends not only to a strong presence in Latin America, but to regional alliances in Asia and Europe as well. With extensive knowledge in every aspect of the field, the RelatedISG Intl Realty team has an outstanding track record of providing clients with exceptional, and rewarding real estate experiences.