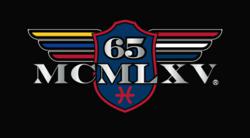 I'm very excited to share my designs with the public.
New York, NY (PRWEB) May 17, 2013
Juan E. Romero, Founder and Creative Director of 65 MCMLXV is pleased to announce the launch of the fashion line's brand new e-shop at http://www.65mcmlxv.com.
A NYC-based contemporary Men's and Women's sportswear collection, 65 MCMLXV creates stylish but classic casual clothing at an affordable price and promotes connection with others and self-expression through fashion that is fun, sexy and reaffirming.
65 MCMLXV's new online home will premiere the popular line of "Just Sayin'" tees which offer unique ways of expressing one's individual style and personality with positive and affirming statements.
"I'm thrilled to bring my exclusive 65 MCMLXV designs to the public via this new online e-shop, and to achieve this fantastic milestone in my design career" said Romero. "I think that buyers will respond very well to the brand's messaging which promotes one's individuality and self-expression in a feel good and fashionable way."
About 65MCMLXV
Founded in 2012, 65 MCMLXV is 1965 spelled out in Roman numerals, the year that Juan E. Romero, the Founder and Creative Director was born. The NYC-based contemporary Men's and Women's sportswear collection is designed by Romero, who brings more than twenty years of fashion and design trend experience to his role as Creative Director at 65 MCMLXV. Starting his early design career at Bugle Boy as an Assistant Designer, Romero has since worked for several large design companies including Star Ride Kids, Inc., Paco Sport and Gitano, where he diligently honed skills in fashion design, technical design and graphic design. He has also merchandised and designed a wide variety of product categories for all tiers of distribution from mass to department store. To learn more about 65 MCMLXV or shop online visit http://www.65mcmlxv.com.
If you would like more information about the launch, or to schedule an interview with Juan E. Romero, please call 877-638-4642 or e-mail Juan at juan(at)mcmlxv659(dot)com
http://www.65mcmlxv.com