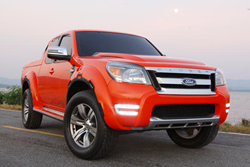 The used 6F50 transmissions that we are now able to sell are a result of better relationships with secondary market distribution companies throughout North America
Houston, TX (PRWEB) August 18, 2015
The co-venture between General Motors and Ford Motor Company in the year 2006 helped lay the foundation for development of the newest 6-speed transmissions. The Powertrain Guys company is now able to sell 6F50 automatic transmissions in used condition through its promoted inventory added to its website. Details about gearbox tag IDs in stock can be explored at http://powertrainguys.com/used-6f50-transmission.
The preowned models that are being made available for retail sale can be installed into Lincoln, Mercury and some Mazda vehicles. Consumers who may have questions about compatibility can utilize the VIN number verification tool that is now part of the PTG web search system that exists on every page of the company portal.
"The used 6F50 transmissions that we are now able to sell are a result of better relationships with secondary market distribution companies throughout North America," said a seller from the PowertrainGuys.com website.
Because the 6F50 is one gearbox that has been used in a minimum of 14 marketed vehicles at the Ford company, locating replacement components for these AWD editions can still require buying direct from a dealership. The Powertrain Guys company is helping to solve problems relating to originally installed components by extending its terms of warranty protection.
"We are able to offer a longer term coverage package for any of the Ford or GM manufactured gearboxes that we are introducing to consumers who visit our website," the seller added.
The PTG company is continuing to offer direct price quotations through the inventory research tool that is present on its homepage. A person with a direct interest in exploring the current sale price for all used condition models in stock can utilize the quotation tool by providing a vehicle production year.
About PowertrainGuys.com
The PowertrainGuys.com company are now providing foreign and domestic powertrain components for popular brands of vehicles on the Internet. The company is networking with regional suppliers in order to provide reconditioned and used inventory. The PowertrainGuys.com website now features a direct research platform that offers pricing and stock information for all products available.