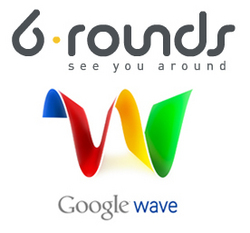 Video chatting in Wave was a top requested feature
(PRWeb UK) September 30, 2009
6rounds, a product from GixOO Ltd., is the first video chat extension to be featured on Google Wave. A "wave" is equal parts conversation and document, where people can communicate and work together with richly formatted text, photos, videos, maps and more. Anticipated to be a useful tool for communication and collaboration, 6rounds is excited to be a part of this innovative product and platform. Anyone who doesn't have a Google Wave account can enjoy the benefits of the video chat platform at http://www.6rounds.com.
"Video chatting in Wave was a top requested feature," said Lars Rasmussen, Engineering Manager at Google. "The 6rounds extension brings another level of collaboration to Google Wave and we're excited to see how people use it."
TheNextWeb.com says in a blog article, "In reality 6rounds has taken everything we've seen in the Instant Messaging space to the next level and delivers an unprecedented, emotionally engaging and fascinating experience which is so much fun, you have to try it yourself."
As a cross platform environment, 6rounds combines webcam video chat, social activities and interactive zones to offer its users an exciting variety of experiences that they enjoy and share together live and in real-time. The 6rounds platform and the wave gadget will allow its participants to do a variety of shared interactive activities, including watching videos, reading news, playing multi-player games, listening to music, e-learning, co-Facebooking, shopping together and much more.
TechCrunch.com notes in a recent article, "6rounds is not just a mere destination site and wants to enable users to interact socially in real-time regardless of what their favorite social network is."
The 6rounds platform can be easily added to any third party website or service. The video chat platform also offers an open API which will welcome developers and designers in all concentrations to create fun and exciting additions to enrich the experience and allow users to enjoy even more different activities and games with their friends.
6rounds Video Chat Website is available for accessing further information and demos. More information about the Google Wave extension can be found on Google Wave Featured Extensions page.
Contact:
Natasha Shine
Social Community and Marketing Manager
T: 972 3 6878752
E: Natasha (at) 6rounds (dot) com
Google and Google Wave are registered trademarks of Google Inc.
###