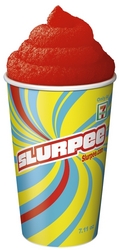 7-Eleven Day has become so popular that people mark it as a recurring event on their calendars.
Dallas (Vocus) July 4, 2010
Just one week after our country celebrates its birthday, 7-Eleven, Inc. customers across the country will raise their free 7.11-ounce Slurpee® drinks to salute the all-American convenience retailer. That's because Sunday is July 11 – also known as 7/11 or 7-Eleven® Day – the day when the world's first convenience chain celebrates its birthday. 2010 marks 83 years since the company was founded in Dallas, Texas.
Participating 7-Eleven stores across America and Canada will serve 5 million free Slurpee frozen carbonated beverages in special birthday cups on Sunday (while supplies last). "Slurpee-brations" and 7-Eleven birthday parties are being held around the country with music, entertainment, prizes and food sampling. The convenience chain has been celebrating its birthday with free Slurpee drinks since its 75th anniversary celebration in 2002.
7-Eleven is also using its namesake day to kick off its second annual Slurpee® Battle of the Bands (BOTB) contest. Starting this Sunday, 12 home-grown musical groups will begin showcasing their talents and compete for semi-finalist status at four regional concerts.
The first concert takes place Sunday, July 11, at 7 p.m. in Los Angeles at The House of Blues on Sunset Strip where three of the bands will open for a performance by Train, the Grammy Award-winning mainstream rock group from San Francisco. In this virtual talent contest, fans can view all performances live online on Slurpee's Facebook fanpage (http://www.facebook.com/Slurpee) and vote for their favorite band at Slurpee.com. Voting is open for three days immediately after each event.
"7-Eleven Day has become so popular that people mark it as a recurring event on their calendars," said Stefanie Olson, 7-Eleven brand manager for Slurpee and Big Gulp® beverages. "Some people forget that it's July 11th or 7-Eleven Day. They just know it as free Slurpee day. It's a great way to create a party atmosphere at our stores. Everyone wants to celebrate!" Free Slurpee drinks aside, July, typically the hottest month in the U.S., is the top-selling Slurpee month of the year.
Every year, July 11 marks the day that the convenience retailer observes its birthday and other company milestones. 7-Eleven, the first convenience store, began its run in 1927 when a Southland Ice Company employee started selling bread, milk and eggs from an ice dock as a convenience for his customers. Since that inauspicious start, "convenience" has become a big business. That small ice company has grown into a major international retailing chain with close to 8,200 7-Eleven stores in North America and more than 38,100 worldwide.
About 7 Eleven, Inc.
7 Eleven, Inc. is the premier name and largest chain in the convenience retailing industry. Based in Dallas, Texas, 7-Eleven operates franchises or licenses more than 8,100 7-Eleven® stores in North America. Globally, 7-Eleven operates franchises or licenses close to 37,500 stores in 16 countries. During 2008, 7-Eleven stores worldwide generated total sales of more than $53.7 billion. 7-Eleven has been honored by a number of companies and organizations recently. Accolades include: #3 spot on Entrepreneur magazine's Franchise 500 list for 2009, #3 in Forbes magazine's Top 20 Franchises to Start, #3 among Top 100 Global Franchises by Franchise Direct, #3 in Store Growth by Convenience Store News, #2 in Franchise Times Top 200 Franchise Companies and #29 among Top 100 Chains in Food Service. In addition, Hispanic Magazine's named 7-Eleven in its Hispanic Corporate Top 100 Companies that provide the most opportunities to Hispanics. 7-Eleven recently was selected by three diversity publications as a company offering the best career and franchisee opportunities. 7-Eleven is franchising its stores in the U.S., and is expanding through organic growth, acquisitions and its Business Conversion Program. Find out more online at http://www.7-Eleven.com.
CONTACT:
Margaret Chabris
7-Eleven, Inc.
July 4th Weekend: 214-361-5607; Biz Office Hours: 972-828-7285
# # #