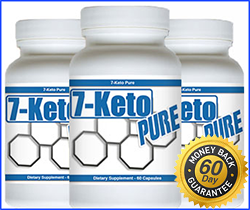 Increase metabolism and accelerate the body's fat burning process
(PRWEB) November 06, 2012
7 Keto has been shown in numerous studies to not only increase metabolism and accelerate the body's fat burning process, but also helps with the body's memory and an overall feeling of well-being and vibrancy.
Although pure 7-Keto extract has been rigorously researched for several years, it's seen its greatest success since its official recent launch as an advanced weight loss management supplement.
Adding to its popularity and acclamation, in 2012 the 7 Keto supplement was featured on a popular daytime television show that is trusted and renowned for providing valuable information on health and wellness.
The 7 Keto supplement has shown great success and affirmation as a trusted weight loss supplement but 7 Keto Pure has accelerated its exclusive formula and put itself a step above its competitors.
7 Keto Pure is now taking the supplement to the next level with the addition of the powerful ingredient, Relora, which is said to dramatically reduce appetite and stress in the body. Relora is a blend of extracts from Magnolia bark and Phellodendron amurense bark. The blend of extracts has been shown to reduce stress without causing sedation. The combination of plant extracts is said to balance out hormone levels, thus reducing stress. Stress is shown to be a major culprit in weight gain and by reducing stress levels, the body is in a state of relaxation and lowers the many types of cravings.
7 Keto has also been named one of the "Top 12 Diets of 2012: A Dozen Up and Coming Supplement Superstars" by Better Nutrition Magazine, and featured as "Best Belly Blasting Supplements" on the nation's leading health and wellness television program.
7 Keto Pure is excited about the success the supplement has seen and is confident that the addition of the Relora ingredient will create a progression from a weight loss supplement to something much more advanced.
To learn more about 7-Keto Pure visit http://www.7ketopure.com
7-Keto Pure is an all-natural metabolism booster made in the USA. This premium supplement is B.B.B. approved, and created to help people lose weight with no drastic lifestyle change.
7-Keto Pure is so confident that the desired results will be achieved they back up all products all with an unconditional 60 Day Money-Back Guarantee.