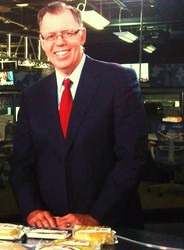 A national education program is needed to help stem the obesity crisis. Simply encouraging people to eat less and exercise more is simply not enough because weight problems are much more intricate
Virginia Beach, VA (PRWEB) January 24, 2011
Dr. Barry Sears, bestselling author of "The Zone," told CBN-TV's national morning talk show, "The 700 Club," with host Pat Robertson, that America's obesity crisis can be reversed through slight changes in food choices that can result in vast improvements in health.
"A national education program is needed to help stem the obesity crisis. Simply encouraging people to eat less and exercise more is simply not enough because weight problems are much more intricate," said the scientist and expert on weight loss, whose advice and articles are online at http://www.ZoneDiet.com.
Obesity-related health problems from diabetes to heart disease are growing at alarming rates, Dr. Sears said.
"The time for action is now since 2011 is a year of reckoning in America as baby boomers are turning 65 at a rate of 7,000 people a day, and their increasing health problems will place a tremendous burden on our already financially stressed health-care costs and the total economy," he said.
Health-care reform must start in the kitchen with people making informed food choices, he said.
"The proliferation of omega 6-rich foods and the abundance of refined cheap carbohydrates in the American diet are the core of the nation's obesity crisis," Dr. Sears said. "People need a one-to-one balance of omega-6 to omega-3 in their diets, just like it was a century ago, rather than today's approximate twenty-to-one ratio."
Through simple adjustments, such as substituting olive oil for vegetable and corn oil in cooking, people can realize important progress in health, he added.
"Too much omega-6 in the diet promotes inflammation, while omega-3 fatty acids decrease inflammation. Omega-3 is found in foods such as fish oils, walnuts, and spinach; while omega-6 is in low-cost vegetable oils, corn oil and soybean oil," Dr. Sears, the founder of the Inflammation Research Foundation, said.
Dr. Sears recommended that people consider supplementing their diets with highly pure omega-3 fish oil, such as Zone's OmegaRx, online at http://www.ZoneDiet.com, where a variety of Zone recipes and food choices are also available.
He suggested replacing refined carbohydrates with servings of protein, such as chicken or salmon, about the size of the palm of your hand, along with colorful fruits and vegetables to help turn off the inflammatory genes that are making people fat and keeping them fat. This Zone Diet approach affects the expression of genes to turn off hunger and satiate appetite, he said.
A new line of ZoneFast comfort foods makes it easy to stay in the Zone, Dr. Sears said.
"Stealth nutrition is one way to help people, by offering them foods they like to eat, such as pizza, breads, bagels and cookies, that taste great but that are made with healthier ingredients. It's easier for people to change their religion than to change their diet, so it's important to make certain the taste of food remains excellent, but the ingredients are improved for better health," he said.
CBN-TV posted Dr. Sears' interview online at http://www.tinyurl.com/4o6rzqn, and an article about his work at http://www.tinyurl.com/4rnt6pe.
Founded by Pat Robertson more than a half-century ago, the Christian Broadcasting Network (now CBN TV) is a multifaceted nonprofit organization that provides programming by cable, broadcast and satellite to approximately 200 countries. On the air continuously since 1966, "The 700 Club" is one of the longest-running programs in broadcast history and is seen in 97 percent of the television markets across the United States. The TV station's Web site is at http://www.cbn.com.
Information about Dr. Sears, Zone Foods and other products of Zone Labs, which is based in Marblehead, Massachusetts, is online at http://www.ZoneDiet.com. Dr. Sears, a scientist and expert on obesity, is a leading authority in anti-inflammatory nutrition. He is the creator of the anti-inflammatory Zone Diet as well as the author of 12 books, including the New York Times #1 best seller "The Zone." His books have sold more than 5 million copies and have been translated into 22 languages. Media contact is Brian Dobson at DobsonPR.com or bd (at) dobsonpr (dot) com.
# # #