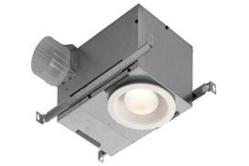 In addition to being extremely efficient and containing no mercury, the LED bulb will last 25,000 hours or about 3–8 times longer than typical CFL bulbs. At 2 hours per day, this bulb will last well over 30 years—so you can spend less time on the ladder.
Issaquah, WA (PRWEB) February 01, 2013
Online retailer TheHardwareCity.com has announced it now has available Broan's redesigned recessed fan/light. Broan's latest version is ENERGY STAR qualified and greener thanks to a light emitting diode bulb.
According to Asha Rani, owner of TheHardwareCity.com, Broan has really outdone itself with its new, LED-bearing creation.
"From a practical standpoint, people are really going to be attracted to this," Rani said. "It is inconspicuous, extremely efficient and the LED bulb will last for 25,000 hours. Not that anyone likely would, but you could literally leave the light on for more than 1,000 days straight without it going out."
Rani added that the LED bulb is Mercury free, and will last about three to eight times longer than typical CFL bulbs. In fact, he says the math shows that even with two hours of use per day, the LED bulb will last for more than 30 years.
"The bulb will literally outlast its user in many instances," Rani added.
Broan's 744LED Reccessede Bath Fan with LED Light features a high efficiency centrifugal fan that delivers 70 cubic feet per minute, or CFM, at 1.5 sones. Additionally, multiple units can easily be used in larger rooms, and each fan/light has a six-inch white trim that is matched to designs of major recessed light manufacturers.
Though not intended for use over cooking surfaces, the Broan fan/light does put out 800 Lumens for ideal task lighting and is UL listed for use over tubs and showers when it is connected to a GFCI protected branch circuit. The unit's 6 7/8-inchhigh housing fits new construction and two-inch by eight-inch ceiling joists, and it boasts a four-inch round duct connector. Overall, the fan/light measures 12 3/4 inches in length, and the diameter of the white trim is 7 3/8 inches.
For more information about this or any of TheHardwareCity.com's products, visit http://www.TheHardwareCity.com.
TheHardwareCity.com, one of the largest sellers of home hardware products online, has combined the old school philosophy of cutting cost with the latest in technology whenever possible since 2007. As an online-based retailer, TheHardwareCity.com offers products available to customers that other larger and smaller brick-and-mortar stores don't often carry. Additionally, TheHardwareCity.com offers live assistance online, Monday through Saturday, to ensure its customers get exactly what they need.