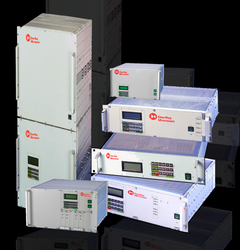 Ventura, CA (PRWEB) August 26, 2009
Dow-Key Microwave is pleased to offer 75-ohm switching systems as a great addition to their 50-ohm matrix product line. These systems are ideal to be used in the broadcasting industry for receiving and transmitting 75-ohm signals, but are equally valued to be used with any other 75-ohm application.
Currently, non-blocking full fan-out (any input connected to any output simultaneously) solid state switching systems are available with operating frequencies in IF-band (20-200 MHz) and in L-band (950-2150 MHz). Generally each system is equipped with low noise amplifiers (with high dynamic range,) local control using LCD and pushbutton keypad, and LAN (Ethernet) interface for remote control. Options such as redundant power supply and other remote interfaces such as IEEE-488 (GPIB), RS-232, RS-485, and RS-422, are also offered upon request.
The standard inputs/outputs configurations of Dow-Key's 75-ohm matrices start at 8x8 and goes all the way up 128x128. Other configurations may be available upon contacting Dow-Key. Furthermore, all unused input paths are internally terminated for the units operating in the IF-band and the chassis size of these systems range from 2U/3U for the 8x8 up to 18U for the 64x64, and beyond 18U for larger systems.
Please download Model 3206 system (8x8 IF-band) and Model 3208 system (8x8 L-Band) data sheets. For more information on other systems contact Dow-Key directly at (800) 266-3695.
###