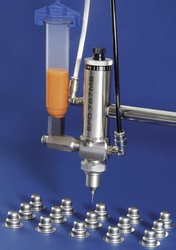 EAST PROVIDENCE, R.I. (PRWEB) September 25, 2007
As today's cutting-edge products continue to pack more features and capabilities into smaller and smaller packages, the size of the fluid deposits used to build them also decreases. This makes getting the right amount of material in the right location--and doing it consistently--increasingly important.
To meet this challenge, EFD developed the new 787MS-SS MicroSpray valve. Based on EFD's proven Low Volume Low Pressure (LVLP) precision spray technology, it provides fast, controlled application of a wide range of low- to medium-viscosity fluids, including solvents, lubricants and UV-cure coatings.
The new 787MS-SS valve features an innovative design that uses a small gauge (0.013" - 0.004" internal diameter) disposable dispensing tip in place of a standard spray nozzle. This concentrates the LVLP air used to atomize the coating into uniform spray patterns as small as 0.0625 inches in diameter--over 60% smaller than EFD's standard spray valve configuration. Benefits include greater process control, faster throughput, fewer rejects and lower production costs.
EFD dispensing systems are available through their worldwide network operating in over 30 countries. For more information, contact EFD at 800-556-3484, +1-401-434-1680 or visit http://www.efd-inc.com.
EFD, Inc. is a wholly owned subsidiary of Nordson Corporation. Since 1963 EFD has designed and manufactured precision dispensing devices for applying controlled amounts of the adhesives, sealants, lubricants and other assembly fluids used in almost every manufacturing process.