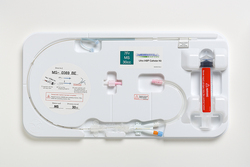 central fluid lumen, which allows for reliable pressure monitoring and the use of a larger 0.025
Irvine, CA (PRWEB) January 19, 2009
Insightra Medical Inc. , a privately held medical device company based in Irvine, California, markets the most complete range of 7Fr IAB catheters in sizes including: 40cc, 35cc, 30cc, 25cc and 20cc, all in a true 7Fr diameter.
"We want to offer customers product flexibility and a very high level of quality," says Brad Sharp, CEO of Insightra. "The market seems to agree that 7Fr is a big improvement in terms of distal flow, comfort and safety. The key is to deliver that 7Fr benefit to the entire population, and not just those who fit the most popular sizes. That is why we have brought such a complete offering to market."
The balloon catheter already has CE mark approval and is selling globally; the addition of FDA clearance allows Insightra to bring the benefits of this offering to the United States, the largest market for IAB catheters.
The patented 7Fr catheter design is the largest range of that size which utilizes a standard fluid filled core, a proven technology in IAB pumping. This key feature means the catheters can be used on virtually any older model of balloon pump, while being fully compatible with the latest balloon pumps on the market (1). By being broadly compatible, hospitals are not required to upgrade their older machines to newer fiber-optic consoles; a huge cost saving.
The balloon at the heart of the kit has been used in Japan for over 8 years on a wide variety of machines and has clinically demonstrated to perform as well as an 8Fr balloon, even with difficult tachycardia patients. The balloon, which was one of the first to be incorporated into a 7Fr design, has a long track record of clinical use.
The catheter was designed from the ground up to be 7Fr, not an adaption of an 8Fr technology. The shaft of the catheter is thin, but strong, and provides a large central lumen, comparable to most 8Fr catheters. This translates to excellent gas shuttling plus an 0.028" central fluid lumen, which allows for reliable pressure monitoring and the use of a larger 0.025" guidewire.
A combination of catheter technology, unique balloon extrusion and folding techniques means the Insightra 7Fr catheter is a true 7Fr and will fit down all 7Fr sheaths routinely available in the cath lab.
"Despite the fact that IAB technology is not new, the Insightra line really provides a surprising number of meaningful benefits," says Steve Bell, President of Insightra Medical. "To be able to have such a wide range of sizes in true 7Fr without the need for new hardware is a big advantage to customers; especially in terms of immediately offering 7Fr therapy to a broader range of patients."
Being a life-sustaining product, quality is paramount for the Insightra IAB catheter. That is why every single catheter undergoes a rigorous quality inspection that tests the catheter through 50,000 cycles to ensure that every device is of the highest quality before it reaches the customer. This combined with the propriety extrusion of the ultra-strong balloon gives an incredibly low rupture rate (2)(3) even with prolonged pumping (4).
The Insightra Ultra 7Fr IAB catheters are available now. For your local distributor contact sales(at)insightra(dot)com.
Insightra Medical (http://www.insightra.com) is a device incubator that brings early stage technology to market, sells the product as an Insightra branded product, or spins the technology into a new company for further funding. At present the company has two products launched globally with three more due to launch by Q3-09. Areas of focus include surgical retraction, hernia repair, urinary incontinence, and natural orifice surgery (Minos Medical).
(1) Compatibility table on file
(2) Comparative Study of Five Types of IABP balloons in terms of incidence of balloon rupture and other complications: A multi institutional study
Nishida et al : Artificial organs 18(10) 746-751 1994
(3) Our experience with a new 7Fr IAB and a performance comparison with another device and drive machine: Matsuda et al JPN J Interv Cardiol 2006 21: 82-87
(4) Prolonged Use for at Least 10 Days of Intraaortic Balloon Pumping (IABP) for Heart Failure Kiyohiro et al Intl Heart J Vol46 No 6 November 2005
# # #