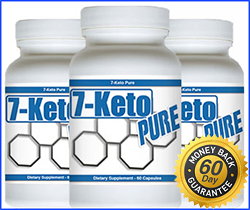 All new 7-Keto Pure formula is even more effective
(PRWEB) May 03, 2013
The main ingredient of this supplement is 7-Keto, which is a byproduct of the DHEA hormone that is naturally produced in the body. This hormone plays a key role in elevating the metabolism and burning fat, naturally by stimulating the thyroid gland. And because 7-Keto is all natural, there are little to no negative side effects. In fact, in clinical studies no adverse events caused by 7-Keto have ever been reported.
There have been many clinical studies that have looked at the effectiveness of 7-Keto and the findings are that 7-Keto is indeed an effective weight loss aid for many people. In one such study conducted by researchers at the Minnesota Applied Research Center at the Veterans Administration Medical Center in Minneapolis found that participants in the study who were given a 7-Keto supplement lost more weight and had a lower Body Mass Index than the participants who were given a placebo. The study lasted six weeks and included 33 adults and included both male and female participants.
Not only has 7-Keto been proven to speed up the metabolism naturally, but it can also improve lean body mass, build muscle, boost the immune system, minimize signs of aging and even enhance memory. One study, also conducted at the Minnesota Applied Research Center, found that elderly participants who took a 7-Keto supplement for four weeks had improved immune function. Participants were given either a 7-Keto supplement or a placebo. Those who took the 7-Keto had a significant decrease in their amount immune suppressor cells and a significant increase in their amount of immune helper cells.
There are other products currently on the market that contain 7-Keto, however the difference with 7-Keto Pure is that each serving contains a full 200mg of 7-Keto. This is the recommended dosage that should be taken in order to get the best results. There are also many weight loss products on the market that contain DHEA, it is important to realize there is a difference between 7-Keto DHEA and DHEA. The main difference being that 7-Keto does not convert to estrogen and testosterone like DHEA does. Other weight loss products contain caffeine or ephedrine, which can affect the central nervous system or cause a number of side effects increased heart rate and blood pressure.
While the original formula was effective at boosting the metabolism and increasing the amount of fat burned, the all new 7-Keto Pure formula is even more effective in these two areas. One reason for this is the special blend of other natural ingredients that also boost the metabolism and burn fat; this results in even better results in an even shorter amount of time. When paired with diet and exercise, there is no limit to how much you can lose.
To find out more about 7-Keto Pure, try it risk free and get special discounts on your order, visit http://www.7ketopure.com/special-offer.