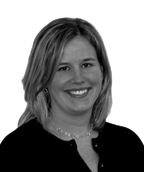 As 7Summits continues to expand and scale, we are focused on deepening the depth and breadth of our leadership team.
Milwaukee, WI (Vocus/PRWEB) February 01, 2011
7Summits, a social business agency, today announced that Kristin Hackney has joined its executive team as Senior Vice President and Partner. In this role, Hackney will be responsible for strategy, analytics, and solutions, with a keen focus on expanding 7Summits' market presence as a leader in applied social media solutions.
"As 7Summits continues to expand and scale, we are focused on deepening the depth and breadth of our leadership team," said Paul Stillmank, 7Summits CEO. "Kristin brings tremendous experience in strategy, enterprise solutions, market development, and applied analytics—all areas critical to the ongoing scale of 7Summits. Her experience in bringing complex solutions to market will provide a competitive advantage to 7Summits clients."
Hackney has spent the past 16 years in the software and technology space, with executive roles ranging from R&D to Consulting Services to Sales. Most recently, she spent 13 years with Chicago-based SPSS Inc. (now part of IBM), a global leader in predictive analytics. She served as Vice President Worldwide Enterprise Solutions, where she built and led SPSS' global predictive analytics solutions business.
"Our socially connected world brings a critical imperative to organizations today. They must learn how best to take advantage of transformational social capabilities to attract more customers, better engage their employees, and drive operational efficiencies. With that comes an explosion of data and opportunities for new insights into human behavior," Hackney commented. "7Summits brings an exciting strategic perspective to the growing social business market and I am excited to be part of the team."
Hackney is based in Chicago, broadening 7Summits' presence in the Midwest as the agency continues to expand nationwide.
About 7Summits
7Summits is a Social Business Agency founded in 2009 with the mission of formulating social business plans that drive value through participation, collaboration, and optimization. The firm refers to this as Applied Social Media. 7Summits creates community experiences that transform businesses into more socially connected organizations. The firm offers deep expertise in marketing and social media strategy to help organizations wade through the hype and focus on moving key operational metrics.
# # #