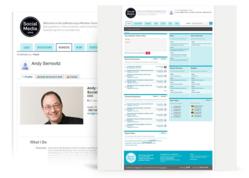 "7Summits brought thought leadership, fresh thinking and great execution that have created a resounding effect already," said Andy Sernovitz, CEO of SocialMedia.org. "We needed it built right, and we needed it built fast, and 7Summits made it happen."
MILWAUKEE (PRWEB) April 26, 2011
SocialMedia.org, the community for social media leaders of global brands, has launched a completely redesigned member center designed and deployed by social business agency 7Summits.
Already a vibrant community, rapid growth at the subscription-based SocialMedia.org created a need to move the community to a new platform that could deliver even greater capabilities. Members were looking for new ways to connect with peers, access content and keep up-to-date on this rapidly evolving field.
SocialMedia.org turned to 7Summits for its expertise in creating social sites that are both functional and engaging. "7Summits brought thought leadership, fresh thinking and great execution that have created a resounding effect already," said Andy Sernovitz, CEO of SocialMedia.org. "We needed it built right, and we needed it built fast, and 7Summits made it happen."
7Summits' team of strategists, designers and developers built the SocialMedia.org member center on Jive Social Business Software (SBS) 4.5. Drawing upon their experience creating engaging communities for large companies nationwide, the 7Summits team worked with Social Media.org to design the site's new experience, develop and test the necessary technology, and ensured the complete migration of the existing community profiles and content.
"Members of SocialMedia.org are working together to shape social media trends with people that they trust," said Paul Stillmank, President & CEO of 7Summits. "Working with Andy and his team, we've structured the new community to provide access to cutting-edge knowledge and enable conversations to occur here that simply don't happen anywhere else. Members can also make contacts and enhance their standing among peers to better share information about how social media is quickly reshaping how business gets done. Needless to say, we felt a tremendous responsibility to get these improvements right and we are proud of the work."
Members are responding positively to SocialMedia.org's continued progression. "Participating in socialmedia.org has proven instrumental in our ability to research ideas, stay up to date on trends, and network with other social media professionals at major brands," said Amit Wadehra, Strategy and Content Manager of Social Networking at Allstate Insurance Company. "The new member center provides useful tools that make it easy to connect with other leaders in the space and share valuable experiences."
SocialMedia.org member screenshots are available and additional examples of 7Summits' work can be found in its portfolio.
About 7Summits
7Summits, http://www.7SummitsAgency.com, is a Social Business Agency founded in 2009 to help clients engage customers, partners and employees to help grow their business. 7Summits' solutions deliver results by improving both social relevancy and social enablement. The firm refers to this approach as Applied Social Media, and has helped many Fortune 1000 brands to become more socially connected organizations. 7Summits offers deep expertise in social business strategy, community experience design, platform development, and community activation.
About SocialMedia.org
We're the community for social media leaders at the world's greatest brands. Members help one another by sharing best practices, practical ideas, and solutions to the issues they can't talk about anywhere else. We're all about fast answers, real-time collaboration, and an internal focus on your company - not campaigns. If you're leading social media at a major brand, you belong in this family.
###