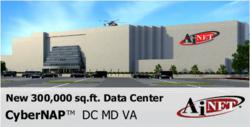 the only TIA-942 Tier IV data center in the DC metro area
Washington, DC (PRWEB) May 21, 2012
AiNET, an innovator in data centers, cloud services and fiber networks, in tandem with the 7x24 Exchange, a leader in knowledge exchange for those who build, operate and maintain mission-critical information infrastructures, will provide a tour and talk on data center reliability and its TIA-942 Tier IV level data center in Beltsville, MD. The tour is on May 31st, 2012 from 2:00 to 5:00 PM. AiNET is currently building CyberNAP™, the largest data center in the Washington, DC metro area.
This peek into a facility certified according to the TIA-942 Tier IV standards as having the highest level of data center reliability provides information rarely available to those inside and outside the data center industry. Deepak Jain, president of AiNET, will lead the tour and discuss:

Data center reliability – See what 2N, 3N, concurrent maintainability and fault tolerance look like in a 50,000 square foot data center.
Patented power protection - Discuss how an AiNET patent plugs the gaps in critical power reliability.
Lessons learned building CyberNAP – Learn how AiNET's knowledge of data centers, technology and applications is shaping its design and development of CyberNAP, the largest data center ever built in the DC metro area.
May 21st is the final day 7x24 Exchange will accept reservations for the tour which will be held at AiNET's headquarters, 11700 Montgomery Road, Beltsville, MD, 20705.
The tour includes light refreshments and costs $50 for 7x24 members and $75 for non-members.
To make a reservation contact: Lillian Rivera of 7x24 Exchange at 703-483-6784 or email at lrivera(at)7x24dc(dot)org.
About AiNET
AiNET® of Beltsville, MD is a leader in engineering, construction, mission-critical technology operations for Internet data centers and fiber optic networks supporting secure, critical applications. The 19 year-old firm currently owns and operates three SAS 70 Type II data centers in MD, including the only certified TIA-942 Tier IV data center and CyberNAP. Each data center is protected by AiNET's patented power protection technology. CyberNAP will open in July of 2012.
About 7x24 Exchange
7x24 Exchange is the leading knowledge exchange for those who design, build, operate and maintain mission-critical enterprise information infrastructures, 7x24 Exchange's goal is to improve end-to-end reliability by promoting dialogue among them.
Media may attend gratis. For media registration please contact: Darrell Tanno, AiNET, Darrell(dot)Tanno(at)ai(dot)net, 202-640-3932
AiNET is a registered trademark of AiNET Corporation. CyberNAP is a trademark of AiNET.