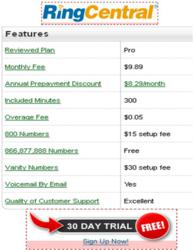 We always love to see 800 number providers simplify their payment process in ways that allow customers to access their services quickly and headache free
Austin, TX (PRWEB) June 23, 2011
Due to the competition in the 800 numbers service field, product discounts are rapidly available. 800-numbers.choosewhat.com continues to aid corporate and small business shoppers in the discovery of the latest offers by announcing RingCentral's waiving of the $15 set-up fee for shoppers choosing the ProPlus, ProBusiness, or ProUnlimited plans. "We always love to see 800 number providers simplify their payment process in ways that allow customers to access their services quickly and headache free", states 800-Numbers.ChooseWhat.com, Manager Casey Jones.
RingCentral's 800 service ranks in the top tier of providers who meet or exceed the industry standard listed on 800-numbers.choosewhat.com, and they now offer a 32% discount when prepaying for one year of service. The ProPlus plan includes 300 free minutes, as well as common phone system features like voicemail by email and live chat customer support.
There is a wide variance in the quality of service and number of features offered by 1 800 number service providers when business owners search for the optimum plan to fill company needs. All products reviewed on the ChooseWhat portal now include the latest measures against industry standards to provide a consistent basis for decision-makers to select the best product for their company to purchase.
800-Numbers.ChooseWhat.com staff find that the quality of 800 service providers is not necessarily tied to the cost of the service. As a result, not only are the cost and features of products evaluated on a routine basis, but also the quality of service, to ensure consumers read the most accurate reviews and data available before making purchasing decisions.
About 800-numbers.choosewhat.com:
The 800 numbers division of ChooseWhat.com includes the latest industry leading offers of 1 800 number services, appropriate for both small and large businesses. Service offers include top brands such as RingCentral, OneSuite, Virtual PBX, eVoice, Phone People, and AT&T with plans tailored to meet the needs of consumers desiring to establish toll free services to increase their bottom line or exposure of their business.
Contact Details:
800-numbers.choosewhat.com
401 Congress Avenue, Suite 1540
Austin, TX 78701 USA
Email: lindsey(at)choosewhat(dot)com
Phone No: 512-448-9043
Website: http://800-numbers.choosewhat.com
###