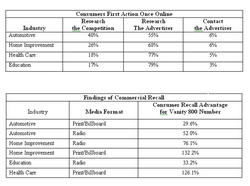 If companies aren't including a phone number in their ads, then they're losing that valuable direct communication with consumers who are already beyond the research phase and ready to buy
Burlington, VT (PRWEB) February 10, 2009
800response, the leading provider of vanity 800 numbers and web-based call tracking, announced today new research that shows consumers have a 45% higher recall of vanity 800 phone numbers than web addresses. The independent survey of 1,000 consumers tested recall of vanity 800 numbers and URLs in advertising, and uncovered consumers' intended actions when visiting an advertiser's web site. Study results suggest that advertisers will benefit from featuring a memorable toll-free number in addition to listing a web address in their advertising campaigns.
RESEARCH COMPETITION IS A FIRST STEP WHEN VISITING AN ADVERTISER'S WEB SITE
The majority of consumers surveyed cite "Research the Advertiser" and "Research the Competition" as their first steps when visiting an advertiser's web site. An examination of multiple industries (auto, home improvement, education and health care) reveals that as many as 40% of consumers research an advertising company's competition as their first step once they move on from an advertiser's web site.
"The results suggest that advertisers who use their web sites as the exclusive consumer response tool risk losing potential customers right from the start, with about a fifth of consumers citing 'research the competition' as their first step. And, fewer than 10% state that they would communicate with the advertiser as their first step," says Laura Noonan, Vice President of Marketing with 800response. "If companies aren't including a phone number in their ads, then they're losing that valuable direct communication with consumers who are already beyond the research phase and ready to buy," says Noonan.
FINDINGS OF CONSUMER RECALL
In six out of seven tests, the data shows that consumers have an overall higher recall rate for vanity 800 phone numbers than they do for web addresses.
"To share an example of one recall test, a sample radio ad for Bayside Auto Sales featured 1-800-NEW-AUTO as the vanity number, and baysideautosales.com as the URL. Survey respondents had a 52% higher recall of the vanity number compared to the URL, despite the fact that the URL was an exact match to the company name. The higher recall for the phone number over the web address is significant for a business when they look at return on advertising investment," says Noonan.
Recall data demonstrate that vanity 800 numbers are also more memorable than URLs when used in print, outdoor, and broadcast advertising formats.
"These recall findings combined with consumers' proclivity to shop the competition while online suggests that advertisers will benefit by featuring a memorable toll-free number in addition to listing their web address in their advertising. Using a URL as the sole direct-response method is not a sage tactic for generating the maximum number of leads from an advertising budget," says Noonan.
About the Study
The vanity 800 provider and a third-party research firm conducted the first study of its kind to test consumer behaviors in response to advertisements featuring both URLs and toll-free 800 numbers in visual and audio advertising. The advertisements represented multiple industries including automotive, home improvement, wireless, education, and health care. See the complete survey results at 800response.com For more information and details of methodology, contact lnoonan@800response.com.
About 800response
800response maintains the widest selection of vanity 800 numbers available today, and offers these dynamic advertising tools to increase response rates and improve ROI for businesses in North America. Services include a sophisticated Call Routing platform, Web-based real-time Call Tracking reports, and Call Monitoring services like Call Recording and Missed Call Monitor. For more information, visit http://www.800response.com/news/pressreleases/ or call 1-800-NEW-SALES.
About Infosurv, Inc.
Since 1998, Infosurv has established itself as a recognized leader in the field of online survey research. Headquarted in Atlanta, Georgia, Infosurv partners with companies of all sizes and industries to design, administer and analyze market research, employee, and customer surveys. To learn more visit http://www.infosurv.com.
###