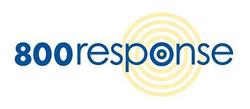 The research study allows us to gain a better understanding of how easily consumers recall vanity 800 numbers and web addresses
Burlington, VT (PRWEB) October 13, 2008
800response, the leading provider of vanity 800 numbers and web-based call tracking, contracted with a third-party research firm to gather data on the American consumer's recall rates of web site addresses (URLs) and toll-free vanity 800 numbers in advertisements.
The research study will also capture buyer behaviors and preferences after respondents view or hear an advertisement for various products and services such as automobiles, remodeling services, educational institutions, and healthcare services.
"The research study allows us to gain a better understanding of how easily consumers recall vanity 800 numbers and web addresses," says Laura Noonan, Vice President of Marketing and Corporate Communications at 800response. "The study results will also identify occasions when - as well as why - consumers opt to call a toll-free 800 number or visit a web site in response to advertisements for higher ticket items, like a new car or a home remodel project. These insights are useful for our business as we expand our services and target new business categories. We will share the study results with our existing customers and agency partners so they may also gain a better understanding of how consumers respond to traditional advertisements that incorporate both a web domain and a phone number as a direct response method."
An opted-in panel of participants will receive the online survey. Infosurv, the research partner, will collect data from 1,000 respondents. 800response will release results of the survey in early November 2008. For more information on the survey, please contact Laura Noonan at lnoonan@800response.com.
About 800response: 800response maintains the widest selection of vanity 800 numbers available today, and offers these dynamic direct response marketing tools to optimize advertising expenditures for businesses in North America. According to research studies, 800 vanity numbers increase advertising response rates by 30-60%. Services include a sophisticated Call Routing platform, Web-based real-time Call Tracking reports, and Call Monitoring services like Call Recording and Missed Call Monitor. For more information, visit 800response or call 1-800-NEW-SALES.###