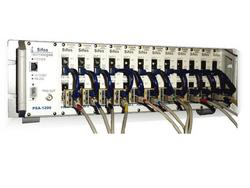 Boston, MA (PRWEB) October 18, 2007
Sifos Technologies, Inc. introduces the High Power PSE Testing software upgrade for PowerSync Analyzer family. With the anticipated release of IEEE 802.3at expected in 2008, first generation High Power Devices (PD's) and Power Sourcing Equipment (PSE) are currently in active development throughout the networking industry. High power PSE's with capability to deliver well in excess of the 15.4 watt requirement of IEEE 802.3af PSE's are becoming available ahead of the IEEE standard.
IEEE 802.3at will specify a Mid-Power 2-pair solution for the delivery of up to 30 Watts of power to a Powered Device. PSE's will be required to deliver over 35 Watts of continuous DC power to fulfill this requirement. PSE's may range upwards of 39 Watts in continuous output capacity on a single PSE port delivered on either ALT A or ALT B (for a mid-span PSE) transmission pairs. DC currents will exceed 700mA and overload thresholds will approach 850mA to 900mA in many cases.
"The High Power PoE Testing Capabilities software upgrade provides our customers the ability to leverage their PowerSync Analyzer solution investments made today to test the Power over Ethernet Plus technologies of tomorrow" said David Lucia, Sifos Technologies President.
The only additional hardware requirement to enable High Power PSE testing is a simply RJ-45 splitter available from Sifos as an integrated Port Combiner assembly.
PowerSync Analyzer software version 3.1 offers full support of this test configuration. PSA Interactive adds a new High Power control to enable High Power PSE Conformance Tests, active load control up to 1000mA, PD Class 4 start-up emulation, and dual-port voltage, current, and power measurements.
In addition, the software upgrade includes many new and important features such as automated PSE Conformance test for High Power PSE's, a new PoE Service Analyzer application, enhanced Conformance Test Suite to address greater PSE silicon diversity and improved accuracy, a help mode and much more...
About Sifos:
Sifos Technologies, Inc. is a privately held corporation, founded in 2003, and is located in Tewksbury, MA., near Boston. Sifos Technologies is the leader in PoE (power sourcing equipment and powered devices) and DOCSIS (cable modems, set-top boxes, cable modem headends) test solutions.
###