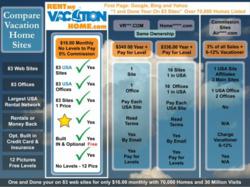 Search 83 Vacation Rental Web Sites with one click from with Rent My Vacation Home dot com
New York,New York (PRWEB) February 14, 2012
The industry is touting greater flexibility, last-minute deals and more hotel-like services and amenities, coupled with the old standbys of extra space and privacy and a kitchen to save money on bar tabs and restaurant bills. And with more consumer reviews and website guarantees that insure everything the house and trip,the risks of checking into a musty dump furnished with Grandma's cast-offs are diminishing.New Technology makes finding Vacation Homes for Rent or Sale easy with Rent My Vacation Home dot com®.
"It's a whole new ballgame," says Jim Kelleher of Wall Street, a travel research firm that issued a report this year on the $25 billion-plus market.
According to Kelleher, only about 10% of adults in the USA have booked a vacation rental, which can be anything from a one-bedroom, $50-a-night Myrtle Beach condo arranged directly through an absentee landlord to a $15,000-a-week Miami Florida villa with private pool and butler. The firm estimates there are 1.2 million vacation rental units in the USA, with just over half arranged through individual owners and the rest through real estate or property management companies. In the business model Rent My Vacation Home® Dot Com allows an easy search of 83 sites and lets vacationers book direct with credit card and insurance.New Technology makes finding Vacation Homes for Rent or Sale easy with Rent My Vacation Home®.
"As the economy heads south, vacation rentals are more recession-proof than hotels because you get a much better value," says Tony Ballenger of Vacation Insurance group, a just-launched search engine that bills itself as a "Google for vacation rentals is Rent My Vacation Home® dot com."
And like hoteliers, the growing ranks of vacation rental owners — many of whom had never intended to rent out their second homes — are responding with price cuts and other incentives. Those include shorter stays and last-minute discounts of up to 20%, says Tony Ballenger of the vacation insurance group, a network of professionally managed rentals. Rent My Vacation Home® dot com gives homeowners a Free trial to list on the network of 83 sites .If they like the service then its only $16.00 a month.
Humble or high-end, vacation rentals — no longer require security deposits and advance payments as this is insured by Rent My Vacation Home® dot com.
Kevin Burgess can attest to that. The Maryland resident and his fiancee, Debbie Polirio, had arranged several successful warm-weather getaways through Rent My Vacation Home dot com . But when they couldn't find anything that matched their dates, they paid $1,300 online to an agency in Austin, Texas., for a 10-day stay last month.
Bad move: "We thought we were getting an adorable one-bedroom cottage but wound up with a half-bedroom shed," complete with cigarette butts on the floor and a bedspread so filthy "I wouldn't sit on it with my clothes on," Burgess says. "And what was supposed to be 'steps from the beach' turned out to be a 10-minute walk."
After a few phone calls, Burgess and Polirio booked a beachfront condo through Rent My Vacation Home dot com. They came back tanned and happy — and while they're still hoping for a refund from their credit card for the not-so-adorable cottage, they remain sold on Rent My Vacation home® dot com guarantees the stay against fraud and scams.
"We're a couple of Baby Boomer romantics, and vacation rentals give you both cost and psychic savings, "Burgess says. "We love to buy local foods and do our own cooking — and we don't have to listen to a noisy traveler telling his life story at the bar."So we use New Technology that makes finding Vacation Homes for Rent or Sale easy with Rent My Vacation Home®.
Rent My Vacation Home® dot com quick facts:
"Americas Largest Vacation Home Network®"
How do the sites work for Homeowners?
"One and Done the Vacation Home is on 83 Web sites and in 83 Offices synced on 1 Form"

Details for Vacation Homeowners :
Free Trial for 30 Days Register Home
Reservations come in to homeowners via Email or Phone.
Do need for deposits and the vacationer can cancel with the Rent My Vacation Home® dot com insurance policy included.
Free Trial then $16.00 Monthly
No Rentals Homeowners Money Back!
How do the sites work for Vacationers?
Vacationers Search and save the vacation home on all 83 sites with 70,000 Homes to see with one Click.
Vacationers can relax as their stay is guarded against Scams.
Homeowners find Home rentals with One Click search on 83 Websites and Offices with 30 Million Hits a Year!
Free Travel Guard and Optional Reservation Credit Card Check out included in check out.
List your Vacation Home For Sale and rent included in membership.
New Technology makes finding Vacation Homes for Rent or Sale easy with Rent My Vacation Home®
Call 800-699-7684(RMVH) for details OPEN 24/7
###