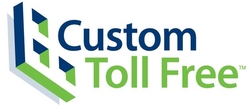 This is the most important intellectual property release of our decade.
Seattle, WA (Vocus) June 30, 2010
Custom Toll Free, a national leader in search, marketing and provisioning of vanity toll free numbers, announced today that it has created a unique platform for reservation of the newly announced 855 prefix. Through the website found at https://www.customtollfree.com/855-toll-free-release.html clients can request any 855 toll free number and be placed into a queue awaiting the October 1st rollout.
The new 855 prefix is being released to address the short supply of existing toll free number area codes (800, 888, 877 and 866). In fact it has been a long 10 year wait since the release of the last toll free prefix, the 866 area code. The release of 855 toll free numbers is great news for businesses, providing relief and incredible opportunities previously out of reach for many companies, especially those that missed out on the earlier toll free releases.
For those that already have toll free numbers, a new prefix allows for competitors to capitalize on the success of expansive branding efforts. As seen in the 866 release, acquiring toll free numbers that are the same or similar to existing giants in the industry can mean huge success for new campaigns. It's easy for someone to imagine the success of a company using 855 FLOWERS, or 855 CONTACTS. Of course there is always the opportunity for existing toll free users to reserve the 855 prefix in an attempt to block such competitive marketing.
President of Custom Toll Free, Chris Rugh, was quoted as saying "This is the most important intellectual property release of our decade." "Toll free numbers, especially vanity numbers, have shown their ability to reduce operating costs, dramatically increase advertising effectiveness, maximize marketing ROI and create revolutionary multimillion dollar businesses" said Christy Brugger, Vice President of Sales and Marketing for Custom Toll Free. The release of the new 855 toll free numbers means a once in a lifetime opportunity for many businesses.
About Custom Toll Free
Custom Toll Free is a national leader in the field of web services and marketing with vanity phone numbers. Custom Toll Free provides clients number search and location, market consulting, direct response services and e-commerce technology solutions for marketing and telecommunications companies nationwide. For more information, please visit http://www.customtollfree.com or call customer service phone number 1.800.933-3030.
###