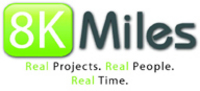 8KMiles will be a new weapon in the SMBs' arsenal of outsourcing and strategic technology partnerships and will enable them to offer enterprise-scale services at affordable budgets
San Francisco, CA (Vocus) March 30, 2009
8KMiles will solve two critical challenges faced by SMBs today – limited access to professional resources and infrastructure. The ecosystem will provide instant access to a pool of professionals from various disciplines that can be sourced for executing projects. The patent-pending 8KVCE (8KMiles Virtual Computing Environment) gives on-demand access to state-of-the-art infrastructure. Companies can achieve scalability, agility and reliability with 8KVCE.
The 8KVCE is built on top of reliable virtualization and cloud computing technologies and supports various flavors of operating system and development tools. 8KVCE enables secure and reliable delivery of services, thus alleviating IP and business continuity concerns faced by companies. As work is being done, companies will have full control and monitoring capabilities, which facilitates maximum collaboration and efficient remote delivery of services.
Traditionally, only large companies have benefited from the outsourcing phenomenon. SMBs face strategic and operational challenges with outsourcing: Limited time and budget, limited access to professionals on-demand, no security of intellectual property (IP) and prohibitive infrastructure spending. "8KMiles will be a new weapon in the SMBs' arsenal of outsourcing and strategic technology partnerships and will enable them to offer enterprise-scale services at affordable budgets" said Dr. Suresh V. Chari, CEO of 8KMiles.
With the virtual computing environment, verified professionals and collaborative tools, 8KMiles is harnessed to offer highly scalable and reliable on-demand services. SMBs will be freed to deliver new products and services to their customers more rapidly. "Companies will be able to make better business decisions as they are now able to 'think big' unencumbered by constraints of resources and infrastructure" said Prabhu Karunakaran, EVP at 8KMiles.
Knowledge services such as Software Design / Development, Graphic Design / Multimedia, Writing / Editing, Marketing / Sales, Data Processing, Healthcare and Medical Advise, Accounting, Education / Training, Virtual Office Assistants etc. can be cost-effectively and securely executed through the 8KMiles ecosystem.
About 8KMiles:
8KMiles is an online ecosystem of companies and verified professionals that enables outsourcing of software and other knowledge work completely over the internet. 8KMiles provides on-demand access to experts and infrastructure while protecting Intellectual Property and enabling Business Continuity.
8KMiles' platform facilitates successful execution of projects in a secure environment with complete visibility and control for companies in addition to providing opportunities for business development and information technology professionals to offer services to companies.
8KMiles is privately held with offices in USA and India.
###