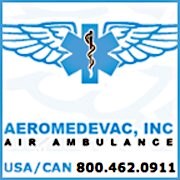 Aeromedevac is now providing international medical support for special events such as movie productions and off-road races.
San Diego, Calif. (PRWEB) September 23, 2013
Aeromedevac is now available for hire to provide medical support for various events such as movie productions and major international motorsport events.
Aeromedevac is an international air ambulance that provides lifesaving medical flights to patients and their family members. Getting the proper care as soon as possible can make the difference between life and death in the case of many medical emergencies.
The California air ambulances services include a fully-equipped aircraft with lifesaving medical equipment. The layout of the Aeromedevac is similar to an emergency room setting. Medical personnel on the flight are familiar with different health situations and can care for patients who have suffered severe burns, require organ transplants, spinal cord repair surgery and other serious medical conditions.
Aeromedevac serves more than urgent care patients. They can also be of service to patients who have become ill on vacation and wish to travel home in order to receive medical care.
Planners of special events and sporting games may decide to use the services offered by Aeromedevac. A flight could be put on standby in case someone at the event requires immediate medical care.
In certain situations, patients may not need to charter a flight in order to travel. Aeromedevac offers up the chance for stable patients to travel with a commercial escort. The company will arrange for the patient to travel with a registered nurse or flight paramedic and will also ensure ground transportation to and from the flight is taken care of.
The California air ambulance is not only limited to the west coast. The company services the continental United States and Mexico. Flight personnel are bilingual and the staff takes care of all customs forms prior to the flight. Travel arrangements can be made quickly and typically in emergency situations, patients can be flying within the hour. In non-emergent situations, Aeromedevac usually only needs 24 hours to make arrangements.
If it is determined that an air ambulance is a medical necessity, insurance companies will often cover the cost. Included in the cost of service is bed to bed service. Aeromedevac will arrange ground transportation to ensure patients get to the hospital in a timely manner. Included in the price is also the ability to bring one to four family members on board as part of the transportation process.
To discuss air ambulance service options, call a representative at 1-800-462-0911 or visit their website at http://www.aeromedevac.com.