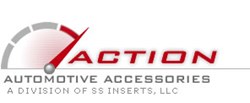 Action Automotive's brand new line of Dodge Charger accessories, Ford Mustang parts, Dodge Challenger accessories, Corvette accessories, and more are available exclusively online at http://www.actionautoaccessories.com.
Scottsdale, AZ (PRWEB) September 05, 2013
Action Auto, the nation's leader in ultra high quality aftermarket Ford Mustang parts and accessories, Dodge Charger aftermarket parts and accessories, Dodge Challenger accessories, Camaro accessories, and Corvette accessories is now carrying a full line of exclusive aftermarket parts and accessories that can only be found at Action Automotive. The new line of exclusive parts and accessories is available exclusively on their website http://www.actionautoaccessories.com, and includes Camaro Retro Body Kits, Ford Raptor engine fluid caps, and custom brake caliper covers for Dodge Chargers and Dodge Challengers.
Action Automotive carries the highest quality of aftermarket auto parts and accessories available anywhere. When customers purchase from Action Auto they can trust that they're going to receive super high quality parts and accessories at a very reasonable price.
Action Automotive prides themselves as the industry leader, specializing in providing ultra high quality Ford Mustang accessories, Corvette parts, Dodge Challenger, and Dodge Charger products at the most affordable prices anywhere. Action Auto promises their customers that they'll provide the most affordable and unique Dodge Challenger accessories and Camaro parts that work efficiently but are durable and are dependable as well.
Action Automotive's large selection of aftermarket parts and accessories includes a complete line of exclusive Camaro accessories including Camaro pedals, Retro USA bumpers, and header plates that are perforated for those awesome reverse hoods. Action Automotive also carries a full line of exclusive accessories for America's favorite automobile – the Corvette. Their vast selection of Corvette accessories has everything a pro car customizer could imagine, including polished hood buttons, custom caliper covers, and air capacitor covers which make it easy to customize Corvettes into a unique custom masterpiece.
Action Automotive is currently offering free shipping on every Internet order. The free shipping offer is valid on all items ordered online that are shipping to anywhere in the Continental United States.
Those interested in customizing their automobiles with high quality aftermarket parts and accessories can contact Action Automotive at (480) 688-6212 or online at actionautoaccessories.com.