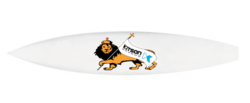 We want our made in the USA custom boards to be available to everyone
Olympia, WA (PRWEB) June 19, 2013
Kitson Boards, Inc. has launched their 90 Day Same as Cash payment option for their custom made carbon fiber paddle board and surfboard customers.
"We want our made in the USA custom boards to be available to everyone," said Kitson Boards President, Michael Kitson, "We understand a paddle board can be an investment, so with this new finance program, hopefully they can be more accessible to anyone who's ever wanted to join in on the sport."
To select this option, customers are encouraged to call in, 877-928-8909, and place their custom surfboard or paddle board order. They will need to provide a credit card number and billing info along with a $200.00 board deposit.
Payment in full must be made within 90 days and custom orders cannot be canceled.
Kitson Boards, Inc. is the sister company of AmazingUniverse.com Inc. which is responsible for Wine Rack Store.com and was founded by Michael and Denise Kitson. The Kitson Boards, Inc. headquarters is located in Olympia, WA. All boards are crafted out of the ultra durable and long lasting carbon fiber material. All production of surfboards, paddle boards and wakesurf boards, as well as the people behind the brand are based in North America and is the only board producer to do so. Kitson Boards prides itself on outstanding customer service and only the finest in recreational boarding and accessories. Free shipping is available throughout the continental USA.