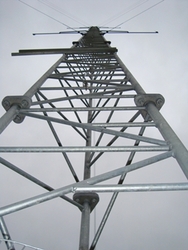 90 meter high Guyed Mast, manufactured by FLI
(PRWeb UK) January 18, 2011
FLI Structures are the leaders in the design, manufacture, supply and installation of steel structures; including masts & towers, screw piles and steel grillage foundations.
They are pleased to announce the installation of a new 90m high guyed met mast in Worcestershire for Natural Power, a leading renewable energy consultancy.
FLI provided a turnkey solution for the design, manufacture and installation of the guyed met mast, including concrete foundations and supply and installation of meteorological instruments.
The location of the mast was a disused airfield in Worcestershire. Wind data will be collected by the met mast to enable correlation reports to be compared against results from ground based devices.
FLI completed the work in just six weeks. The tower is now in place and the instruments are live collecting wind data for ongoing assessment.
The guyed mast has a slim profile, designed in accordance with the wind speeds at the location and the specification required. The trend for taller wind turbines is growing, therefore the need to monitor wind speeds at high altitudes is also increasing.
FLI's guyed met mast is climbable which allows access to the wind monitoring sensors. This is essential when wind data is collected over a long period of time. FLI's guyed mast was designed and fabricated in FLI's premises in Gloucester.
Though this tower is held down by a concrete raft, FLI Structures do provide alternative foundations, mainly screw piles and steel grillages.
The benefit of using FLI screw piles on a site is that they are quick and easy to install which saves time and money on these projects. No excavations are needed, therefore no spoil to cart away, saving time and money, particularly if the ground is contaminated.
Screw Piles are an all steel, sustainable foundation solution, making them fully recyclable, and can be easily removed and re-used if needed.
Finally, our screw piles solutions are cost effective in soft ground where traditional piling is more expensive and a concrete pad footing is technically unsuitable.
FLI have successfully designed helical pile foundations for a vast array of structures in various markets including Railway, Highways, Civils, Construction, Masts & Towers and Renewable's.
Tony Parker, Sales Manager at FLI comments "Our success is based on understanding and solving site problems efficiently, and providing safe solutions for our installers. With a strong focus on innovation, we are able to supply foundation solutions to support for a wide range of structures in both Railway & Highways markets. We take experience from each site and use this knowledge to continue to lead the way in the screw pile foundations sector."
FLI's success on rail sites was recognised by Network Rail and Birse Rail, who both presented FLI with their Award for Innovation.
###