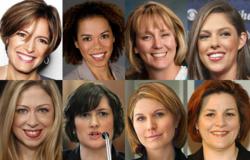 New York, NY (PRWEB) March 28, 2012
In collaboration with Glamour magazine, 92nd Street Y presents a live webcast of Running in Heels: Where Are the Women Candidates of 2012 and How Can We Get More of Them on Wednesday, March 28 at 8 pm (EDT). The panel features some of today's most influential political women – from both left and right – to discuss the current state of women in politics and how the next generation will shape the future of women in this country.
Chelsea Clinton, a board member of the Clinton Foundation and Clinton Global Initiative and special correspondent for NBC News, moderates the discussion and Cindi Leive, Glamour's editor-in-chief, introduces the evening. Paenlists are: Christine Quinn; speaker of the New York City Council, Nicolle Wallace, bestselling author of Eighteen Acres and It's Classified, political commentator and former White House communications director under President George W. Bush; Abby Huntsman Livingston, daughter of former presidential candidate Jon Huntsman, who most recently worked on his campaign and previously worked for ABC News and for Good Morning America; Stephanie Schriock, president of EMILY's List, the nation's largest resource for women in politics; Sandra Fluke, former president, Georgetown University Law Students for Reproductive Justice; and Amy Holmes, former CNN contributor and news anchor for The Blaze and GBTV.
This live webcast marks the launch of 92Y's Campaign for the American Conversation (C4AC), an ambitious new initiative to promote civic and civil dialogue. 92Y, New York's renowned cultural and community center, is known for providing a platform where the world's best minds come together to discuss a huge range of topics from a wide variety of different perspectives. With C4AC, 92Y expanded the online component of its programming, with daily posts of free content drawn from its on-stage conversations, as well as original content produced independently and with collaborators like Harvard Kennedy School. The goal of C4AC is to engage citizens in conversations that allow for a more informed and involved electorate, and ultimately, a healthier society. For more information about C4AC, visit http://www.92YAmericanConversation.org, which launches on March 28 at 8 pm, to coincide with the women in politics event and webcast.
92Y is among the first organizations to use YouTube's new live-streaming platform for nonprofits; 92Y was also one of the original organizations to participate in YouTube's nonprofit video channel in 2007.
Watch the Webcast on March 28 at 8 pm (EDT) at http://www.YouTube.com/92Y
For Tickets to the Event, visit http://www.92Y.org
PRESS CONTACT:
A limited number of press tickets to the event are available with advance registration.
Please contact Sarah Morton, smorton(at)92Y(dot)org or 212.415.5435.
About 92nd Street Y
92nd Street Y is a world-class nonprofit community and cultural center that connects people at every stage of life to the worlds of education, the arts, health and wellness, and Jewish life. A community of communities, 92Y is a home for candid, thoughtful discussions on the most pressing issues of our time. We offer an outstanding range of experiences in the performing, literary and visual arts for both audiences and practitioners; unparalleled access to celebrated artists, teachers and thinkers; and a place to pursue personal journeys – spiritual, physical or intellectual. Through the breadth and depth of 92Y's extraordinary programs, we enrich lives, create community and elevate humanity. More than 300,000 people visit 92Y's New York City venues annually, and millions more join us through the Internet, satellite broadcasts and other digital media. A proudly Jewish organization since its founding in 1874, 92Y embraces its heritage and enthusiastically welcomes people of all backgrounds and perspectives. 92Y is an open door to extraordinary worlds. Visit us at http://www.92Y.org.