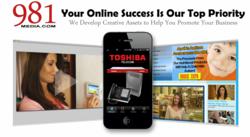 There is an ever-growing necessity for businesses to maximize their online presence through websites and social media. We wanted to provide all the necessary tools to succeed online.
Burbank, CA (PRWEB) January 17, 2013
981 Media has introduced a myriad of new services to help businesses maximize their web presence.
Marketing can be difficult for businesses who require website design, video production, photography, and mobile app design. They're often forced hire multiple companies, which can get expensive. 981 Media simplifies and economizes the process by offering these services in a single company.
More than 4 billion online videos are viewed each day, and it is necessary to utilize this trend for a successful marketing campaign. 981 Media makes this easy with their Corporate Video Production service. This service provides engaging, customized corporate videos that are filmed with Hollywood-quality cameras and highlight the client's products and services. 981 Media's video service provides product demos, corporate interviews, web series, and instructional videos.
In less than a year, desktop internet usage will be trumped by mobile internet usage. Unfortunately, few businesses are ready for this change. The majority of websites cannot display properly on the mobile devices that potential clients use for internet access. 981 Media solves this problem with Responsive Web Design, which allows websites to resize automatically to adjust to whatever device they are displayed on. To learn more about the unique features of their websites, click on the following link: http://www.981media.com/video/website-design.
"There is an ever-growing necessity for businesses to maximize their online presence through websites and social media," says Austin Brooks, the creative director at 981 Media. "We wanted to aid their success in these endeavors by providing all the tools necessary for them to succeed online and market themselves in the best ways possible."
The internet is becoming increasingly social, making an excellent online reputation crucial for businesses and their associates. To this end, 981 Media offers Corporate Photography Services, which include promotional shots of the company and its executives as well as lifestyle shots that project a positive image to their online audience.
Mobile app usage is on the rise and becoming an important part of marketing. Most apps, however, are unaffordable for the majority of businesses. 981 Media addresses this problem with the more cost-efficient Media Flow Apps. These apps make use of social networking through built-in sharing capabilities with Facebook, Twitter, and other social networking sites. They also provide directions to the business from any location and enable business owners to send sales and event notices right to their customers' mobile phones.
About 981 Media
981 Media serves companies who want the very best marketing tools around and specializes in using multiple forms of media to promote businesses. They offer award-winning web design, video production, corporate photography, mobile apps, and much more. They chose their name for its ability to represent what they give to their clients. The numbers 9, 8, and 1 mean completion, fulfillment, abundance, power, creativity, and confidence. 9 is also the square root of 81, and together they symbolize synergy and maximized outcomes. To learn more, give them a call at 877-981-Media (6334) or visit their website at http://www.981media.com.