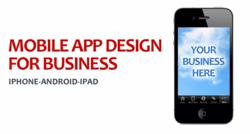 "Responsive web design is a hot buzzword when it comes to creating websites that are mobile-friendly, but the user experience it provides isn't the most efficient one."
Burbank, CA (PRWEB) April 29, 2013
Los Angeles marketing company 981 Media is pleased to announce the launch of custom-built mobile apps for local businesses.
One of the unique things about mobile phone apps is the user experience. Mobile apps offer a streamlined, easy-to-navigate experience and make content highly accessible.The fact that they are so user-friendly has made them popular among those who search for local businesses online.
Many businesses are choosing to capitalize on this by making sure their websites offer a similarly enjoyable experience.
"Responsive web design is a hot buzzword when it comes to creating websites that are mobile-friendly," says Austin Brooks, creative director at 981 Media. "But the user experience it provides isn't the most efficient one."
For this reason, web apps, also known as HTML5, have become the next step in mobile-friendly web design. While Responsive Web Design ensures that a website does not look distorted on mobile devices and maintains functionality, its layout may not be particularly easy to navigate on a small device. HTML5 gives the same sleek appearance as a mobile app and makes for a streamlined navigational process.
In spite of this, there are still several features unique to mobile apps that make them a smart investment even for businesses that already have an HTML5 website. Mobile apps are available offline, their interface is extremely interactive, and they can utilize several features on the user's phone that a web app cannot, such as GPS directions, built-in camera phones, and location services. This allows businesses to provide instant directions to those using their mobile app from anywhere in the world. They can also enable a check-in system for customer loyalty programs.
Many businesses have a difficult time figuring out where to go for a mobile website and an even harder time figuring out where to go for mobile apps, especially considering the latter is notoriously expensive. This is why 981 Media offers several different services under one roof, including mobile website design and affordable mobile apps. They have found a way to design affordable, custom-built mobile apps that function on iPads, iphones, and android devices, creating a 3-in-1 app that is still cost-efficient.
981 Media is committed to providing unique and cutting-edge marketing services that foster a stellar online presence. They offer a unique range of services and strive to help Los Angeles business owners take their companies to the next level.
About 981 Media
981 Media serves companies who want the very best marketing tools around and specializes in using multiple forms of media to promote businesses. They offer award-winning web design, corporate video productio n, corporate photography, mobile apps, and much more. They chose their name for its ability to represent what they give to their clients. The numbers 9, 8, and 1 mean completion, fulfillment, abundance, power, creativity, and confidence. 9 is also the square root of 81, and together they symbolize synergy and maximized outcomes. To learn more, give them a call at 877-981-6334 or get in touch at http://www.981media.com/contact-us.