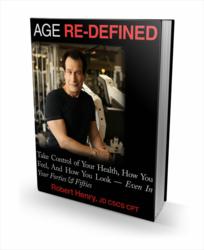 No matter how good your product is, the first step to success is making sure that people are aware of it. They can't buy it if they don't know about it.
Burbank, CA (PRWEB) February 25, 2013
Fitness authority Robert Henry, in conjunction with Los Angeles marketing company 981 Media, is thrilled to announce the release of his new eBook, "Age Re-Defined: Take Control of Your Health, How You Feel, And How You Look – Even In Your Forties & Fifties".
There are a lot of preconceived notions about getting older and what life is like after a certain age. Unhealthy weight gain, heart disease, and other degenerative conditions are often viewed as facts of life after fifty. However, being proactive about one's health, fitness, and wellness can dispel those notions and substitute a healthy and fit reality in their place. Robert writes about his decades as a fitness enthusiast and other aspects of his life journey, with particular emphasis on how he re-booted his commitment to exercise and nutrition in his early fifties, discovered his "inner athlete", and restored and even optimized his health and fitness at that age. He writes about getting "younger" instead of getting "older".
Robert is 56 and holds nationally recognized certifications in strength and conditioning, personal training, fitness nutrition, and wellness coaching. In addition to writing "Age Re-Defined", he founded Robert Henry Fitness in an effort to help others in their efforts to be proactive and to improve the quality of their lives.
"Writing Age Re-Defined was a uniquely personal experience, because I share parts of my own life journey," says Robert Henry. "But it was also a great experience as a fitness enthusiast and fitness professional, and there is a lot of information in the book. I hope the book educates and motivates people of all ages to be proactive about their own health, fitness, and wellness."
Age Re-Defined discusses health, exercise, fitness, nutrition, the mind-body connection, and wellness. Deborah Klein, MS, RD is a Contributor to the nutrition content. The exercise and fitness content of Age Re-Defined is intended for beginners as well as more experienced exercisers.
Robert chose 981 Media to help him promote Age-Redefined, utilizing their corporate video production and web design services to get the word out. The company filmed an engaging online video covering Age Re-Defined's release, and they created a customized landing page for the eBook, making it easier to find and purchase online.
"No matter how good your product is, the first step to success is making sure that people are aware of it," says Austin Brooks, creative director at 981 Media. "They can't buy it if they don't know about it."
About 981 Media
In addition to their web design and video production services, 981 Media offers several other marketing tools that are designed to help business create a positive, professional online reputation and showcase their products and services in the most engaging, effective ways possible. To learn more and view a full list of services, click here: http://www.981media.com/.
About Robert Henry Fitness:
Robert Henry is a Certified Personal Trainer, who holds several other certifications in his field. He offers programs in Fitness and Nutrition Coaching, Wellness Coaching, and Personal Training that are customized to meet each and every client's needs. To learn more, visit http://www.roberthenryfitness.com/.