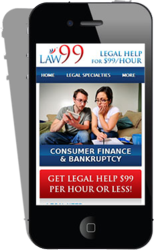 The nature of the legal industry: self-regulated, self-priced, self-rated and self-absorbed.
Virginia Beach, Virginia (PRWEB) November 13, 2012
The recently introduced legal services platform Law99™ could well be the ultimate solution to find out whatever it takes to fix America's broken legal market. This website is an online platform where lawyers specialized in different disciplines offer their legal expertise at $99 per hour or less at a fixed fee. The object behind the launch of this platform was to cater quality legal help to the middle class with unmet legal needs. However, for obvious reasons, this concept has been antagonized by those attorneys who have so far been making the most of a legal market with no price transparency whatsoever. Questions have been raised by them through social media and blogs about the proficiency of the attorney offering services at $99 per hour. Law99™data shows otherwise: the average years of experience practicing law exceeds 20 years.
Since the launch of Law99™, attorneys have joined this platform to earn additional income and to assist millions with unmet legal needs. However, many pundits still do not understand the model introduced by Law99™ and how it differs from all the other legal service sites.
This online platform can be represented best with the following points:
1) A platform that is FREE for both attorney and consumer. Other sites charge attorneys high referral or group advertising fees. Some sites even charge consumer fees.
2) Law99™ doesn't just offer hourly rate pricing. It can be either $99 per hour or even less at a fixed fee. Most Law99™ lawyers offer this second option which is both affordable and transparent, up front. Most critics do not get this important point.
3) Privacy is key to protect Law99™ attorneys from those who are criticizing them. To avoid losing regular rate clients and avoid being attacked by their peers, the Law99™ platform offers attorneys privacy and allows them to decide whom they want to engage via their private Dashboard.
4) Today's consumers expect and even demand convenience. Therefore, connecting with 2-3 attorneys shouldn't take days, it should be free, easy and fast. That's why Law99™ offers a mobile site for consumers and attorneys to stay connected on the go.
Until now, there has not been a platform that offered these four critical elements. The sole intention of Law99™is to help lawyers expand their practice and reach more of the under-served middle class market. There is no rating system that can tell the difference between a good attorney and a bad one based on price. There are innumerable instances where the much hyped attorneys with the higher rate were not able to deliver the outcome expected from them. The attorneys criticizing Law99™are certainly feeling threatened because many of their counterparts joining Law99™ have represented clients at their state's Supreme Court and some of them can boast over 40 years of experience. Answering the critics, the founder of Law99™says, "The inability for the masses to access legal services is a huge social issue - the key is to get the journalists to understand this crisis. The block to delivering legal services to Middle America is due to the nature of the legal industry: self-regulated, self-priced, self-rated and self-absorbed. While the industry continues to decline, self-representation continues to grow. Their outdated model and stubborn attitudes are slowly killing the industry. Only those open to change will survive."
About the Company: Law99.com is a just launched online legal services website that offers legal service at an astounding rate of $99 per hour or less. With rising unmet legal needs and a growing surplus of attorneys, Law99™ is on a mission to eliminate barriers and build trust by promoting price transparency.
Contact:
Cynthia Martin
cyndi(at)legalisus(dot)com
Website: http://www.law99.com