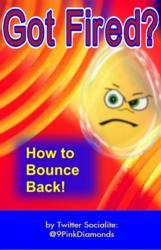 A must read for anyone who has been fired, laid off or quit a job. It puts you on the right track.
MIAMI, FL (PRWEB) September 12, 2012
Twitter socialite, who calls herself a "human alarm clock" has released a new ebook with a shocking new perspective on the aftermath of getting fired or laid off from a job. Here's an excerpt from the book:
You woke up this morning and thought to yourself, "It's a good day." You only hit the snooze button twice. Although you aren't that enthused about going to work, it's Wednesday (hump day) and you only have 2 more days till the weekend. Woo Hoo! (Classic rat race thinking, by the way.
While putting your belongings away, your boss asks if s/he can see you in his/her office. Blithely unaware of anything, since you just commuted an hour or more in traffic, making it to work just in time, you proceed into his/her office with a pungent smile. "Yes sir/ma'am?" S/he tells you, "You're fired. We no longer require your services. That is all." And poof! It feels like your world crumbled. Sure, it was a crappy job that you didn't like, but you were making a living, albeit barely. Sound vaguely familiar?
I'm going to guess that most of us have lost a job in either one way or another. Either by being smart and quitting or getting fired. You're cleaning out your desk, barely holding back your tears. Teary-eyed, wondering what the hell you're going to do next. It's traumatizing but on top of that, you have to tell your wife, with a new baby, or tell hubby he's now going to have to carry the household. Or worse, you're a single mom or dad who was living paycheck to paycheck with very little saved up. (Luckily, you kept enough to buy this book. Smart investment.)
Most employed people, unfortunately, never get around to saving. Their so-called "cash stash" hidden in a lock box under the bed only contained a piece of paper with "add cash here" written on it. My girlfriend's rock solid plan was a note on her fridge to have a rock solid retirement plan. She eventually threw it away after the ink disintegrated, just like transaction details on a retail store receipt. You are not alone.
You'll be okay. Being fired, though you may not see it now, is a blessing in disguise. I'm sure it's God's way of saying, "You know what? You've endured your asshole of a boss for long enough. You've slaved for long enough. You've wasted too much time for long enough. You've been focusing on the wrong things for long enough. And if I don't move you from this job right now, you'll forever block my blessings!"
I won't sit here and tell you to suck it up or get over it. I know the initial shock really shakes your foundation, especially if you've been on the job for years. So go to the bathroom and cry. Let it all out when you get outside. That emotion is strong and has to be released. This moment is critical. After you let it out, take a deep breath. Two if you need it. Say to yourself, "peace be still" repeatedly until you feel your emotions plateau to a calmer state. As you begin to calm down, get out a sheet of paper and write that same phrase over and over again. Don't take saying and writing this phrase lightly. There is power in the tongue. Speak what you want into existence. Then, immediately scream, "Thank you. I am now FREE!!!! I feel good. This is the best day of my life!!!!" Get excited. You can now design your own life instead of someone else designing it for you.
The time is now for you to take control of your life. This is your opportunity to exit the rat race from the many who have grown accustomed to it. Resist that complacency and take the plunge into a world filled with endless possibilities, prosperity, abundance and freedom...
Want to read more? The book discusses how to deal with the initial shock of losing a job; how to cope with meddling family & friends; 10 reasons why being fired is a blessing; discovering your purpose in life; getting rid of fear; creating value to earn money; money; and, avoiding the two biggest mistakes in generating income.
The eBook, Got Fired? How to Bounce Back!, sells for $9 and can be purchased here. Follow the author on twitter @9PinkDiamonds.