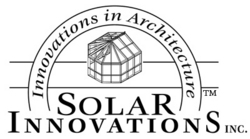 Solar Innovations can incorporate a canopy as a car port, entryway cover, covered walkway, garden trellis, or outdoor living space accessory.
Myerstown, PA (PRWEB) January 12, 2008
Solar Innovations, Inc., a custom manufacturer of residential and commercial canopies, walkways, skylights, greenhouses, conservatories, sunrooms, folding and sliding glass doors, walls, windows, and screens, incorporates a traditionally commercial structural element into residential and outdoor living.
Glass canopies and walkways which were formally stigmatized into the commercial world have bridged the gap to become a unique enhancement to both outdoor living and residential spaces. Able to match the structural or landscape theme of nearly any estate, "Solar Innovations can incorporate a canopy as a car port, entryway cover, covered walkway, garden trellis, or outdoor living space accessory."
Solar Innovations combines the requests of its clients with structural requirements to create a functional work of art. Solar Innovations is also versed in base materials and can work with nearly any existing structure to incorporate the addition for a seamless transition.
Solar Innovations is able to offer canopies and walkways in many styles. Some of the more popular options include traditional shapes like straight and curved eave double pitch, however, Solar Innovations is also able to include more uniquely shaped structures into residential applications. Barrel vault, hip end, and lean-to canopies and walkways can create a unique focal point for any residential or outdoor living space.
As always, Solar Innovations is able to finish canopy or walkway additions in one of seven standard painted colors, custom match colors, two Anodized finishes, and custom cladding options of Copper, Brushed Stainless Steel, and simulated Lead Coated Copper are available. Decorative options such as ridge cresting, finials, and moldings can be featured on the canopies. Solar Innovations offers glass, polycarbonate, and acrylic options in several tints to satisfy numerous aesthetic pallets.
Solar Innovations has completed several canopy integrations which exemplify the versatility of the product. Residential canopies often serve as carports, such as the Arif project. The Arif carport, finished in Hartford Green aluminum, incorporated three different structures. Two lean-to canopies were connected to a large straight eave canopy with a hip end to create this residential feature.
A beautiful, straight eave, double pitch walkway, 85' long and 13' wide, the Montgomery project's accessories created a unique feel for the structure. Because of this walkways size, the homeowner chose to incorporate decorative gutters, downspouts, and even a shade system to create a comfortable, functional feature to their New York home.
In Vermont, Solar Innovations worked on the Levin project to create a unified outdoor living space. Covering a BBQ pit and outdoor dining area with a 15' wide, 18' long, decorative radius aluminum and glass pergola, allowed the family to enjoy the space despite weather conditions.
Solar Innovations is also involved in commercial canopies like the Eden Resort in Lancaster, Pennsylvania. This extraordinary carport and entryway meets the custom design specifications with a 40' projection, 18' width, and 2' ridge height.
Solar Innovations is proud to become involved in any project, no matter the size or budget. For more information on Solar Innovations' canopy and walkway applications or their new products, please contact the marketing department at skylight(at)solarinnovations.com or call 800-618-0669.
###