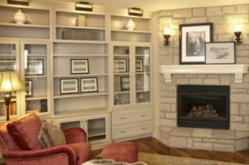 With the Rodrock Custom Design Experience, we're making true custom homes more affordable than they've ever been before.
Lenexa, KS (PRWEB) October 24, 2011
In partnership with Twigs Interiors, Rodrock Homes is offering clients a never-before-seen opportunity: the freedom to build the custom home of their dreams--with personalized interior design services helping you every step of the way.
"No one else in the Kansas City marketplace is doing this," says Rodrock Homes CEO Brian Rodrock, who's proud to offer clients a level of quality, value, and choice. "With the Rodrock Custom Design Experience, true custom homes are more affordable than ever before."
The newly integrated design-and-build approach means customers get to consult with Twigs' design experts from the very beginning of their project. "Imagine walking a property and consulting with a designer about the floor plan from the get-go," says Rodrock, "then modifying those plans to include elements like arched doorways, vaulted ceilings, or floor-to-ceiling windows. A designer's touch from the beginning makes a big difference," Rodrock adds.
One of the many benefits for customers is the time saved by employing a locally owned and nationally recognized design firm like Twigs Interiors. Because of its success, Twigs can offer its clients a greater selection of décor all in a one-stop-shop: in addition to a certified interior design team, its downtown Overland Park boutique features a drapery and bedding workroom, custom lighting and paint and stain color lines, fabrics and window coverings, wallpapers and furnishings, and even its own warehouse and delivery crew.
With an emphasis on designing homes to suit clients' specific tastes, Twigs Interiors Owner Lisa Mermis has found a perfect partner in Rodrock Homes. "It's so exciting," says Mermis, "because the combining the building and design process in a way that's customarily only available to very high end customers who pay square-footage fees."
"We like to provide customers with a personal design experience in a relaxed atmosphere," says Mermis, who believes design should be more delightful than stressful. "We share a common goal with Rodrock Homes in that we're both committed to eliminating the fear that can come with making interior finish decisions in a new home."
The Twigs' design team does their homework by collecting information from client questionnaires, interviews, and "look books" filled with a customer's personal preferences. Next they pull together everything—proposed paint colors, trim work, fabric, carpet and more—to make large concept boards for their clients to view. "We want our customers to see the overall design before it comes to fruition," says Mermis. "We want them to know what their dream home will look and feel like before it is complete."
New home buyers are the ultimate benefactors of the winning combination of award-winning interior design firm and new home builder. Not only are they getting a custom designed new home, but Rodrock Homes is striving to ensure they enjoy the experience as well.
Rodrock Homes is a single family residential builder based in Lenexa, Kansas. The company is currently building homes throughout Johnson County, Kansas. For more information contact Brian Rodrock, Rodrock Homes, LLC. (913) 851-0347, brodrock at rodrockhomes dot com
###