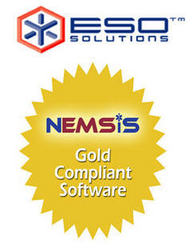 Gold certification further solidifies our position as the nation's leading ePCR provider and demonstrates our commitment to meeting the needs of our growing national client base and to the consistent measurement of EMS systems
Austin, TX (PRWEB) February 1, 2008
The National Emergency Medical Services Information System (NEMSIS) has awarded ESO Solutions, Inc. a Gold Level rating for the company's ESO Pro™ ePCR Suite of software. This rating is the highest certification level possible and represents the software's full compliance with the over 400 key data elements in the documentation and description of EMS systems and patient care as defined by the National Highway Traffic Safety Administration (NHTSA) dataset 2.2.1.
The National Association of State EMS Directors' (NASEMSD) call for EMS data collection at the national level in order to achieve better uniformity and quality data led to the development of the NEMSIS project. ESO Solutions responded to this need with the ESO Pro™ Suite, a comprehensive ePCR system that enables medics to capture all required data quickly, easily and intuitively. Furthermore, robust reporting tools enable quality management at the administrative level. The software also allows for the easy import and export of data with cardiac monitor, CAD and billing interfaces and complies with both state and national data reporting requirements.
"Gold certification further solidifies our position as the nation's leading ePCR provider and demonstrates our commitment to meeting the needs of our growing national client base and to the consistent measurement of EMS systems," says John Dadey, president and CEO. "We continue to win key accounts based on the ESO Pro™ Suite's usability and flexibility and strive to meet the highest standards of data reporting as well as operational and quality initiatives,"
About ESO Solutions, Inc.
ESO Solutions is Software as a Service (SaaS) company dedicated to providing cutting-edge technology to emergency services nationwide. Because ESO's sole mission is to deliver cost-effective, medic-friendly software and billing services to EMS/Fire organizations, the company is able to fully focus its resources on innovative, comprehensive, creative solutions that enable medics to collect and report patient data more accurately and efficiently. ESO Solutions' fully-hosted, NEMSIS Gold-compliant solution results in easy implementation and lower cost of ownership. Its mobile software component, which interfaces with CAD and cardiac monitor devices, allows medics to import valuable data and document calls quickly, easily, and completely, right at the patient's side. For more information, visit http://www.esosolutions.com .
About NEMSIS
NEMSIS, or the National Emergency Medical Services Information System, is the national effort to standardize the data collected by EMS agencies through the implementation of an electronic EMS documentation system in every local EMS system, a state EMS information system in every state and territory, and a national EMS database. The benefits of such a project are varied and numerous and will include improved analysis of EMS procedures and patient care, a business model for the EMS community, and the establishment of more reliable outcome measures, to name a few. For more information, visit http://www.nemsis.org .
###