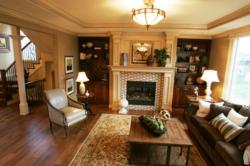 Our company is poised to assist those families looking for a new home in southern Johnson County.
Lenexa, Kansas (PRWEB) July 12, 2011
Proving that it was not just the temperatures that were hot during the month of June, Rodrock Homes had a blistering month for new home sales. The custom home builder sold 17 new homes in the cities of Olathe, Overland Park, and Lenexa in Kansas. While selling at least two homes in 6 different communities with a price range in the $200,000's to over $500,000's, Rodrock Homes believes it has the right product mix for those looking to buy a new home.
The previous record for home sales during June was 12, back in 2009. In that year, new homes sold in four different communities, compared to the seven communities last month. The all-time record for homes sales was 19 back in the January 2007, during the height of the building boom.
Brian Rodrock, Chief Executive Officer of Rodrock Homes, understands there are many factors which go into having a record-setting sales total. "Homebuyers are looking for the right floor plan, in the best communities, allowing their children to attend the finest schools, while having convenient access to shopping and dining," said Rodrock.
Another component contributing to the success of the nationally recognized company is having the available inventory for prospective buyers to walk through and purchase. Some of the homes sold in June were true custom build jobs, where the home buyers made architecture changes before starting the building process from the very beginning. However, not every family wants to wait that long for a new home. Over half of the homes had already been partially constructed by the time they were sold in June. This allows a homeowner to move into their new home as quickly as 30 days after signing their contract.
Rodrock does not believe the company is done setting records for home sales in 2011. "We have homes available in great communities which will allow families to be a part of the Olathe, Blue Valley, or De Soto School District for the upcoming school year. Our company is poised to assist those families looking for a new home in southern Johnson County," Rodrock concluded.
Rodrock Homes is a single family residential builder based in Lenexa, Kansas. The company is currently building throughout Johnson County, Kansas. Follow the company on Facebook or on Twitter. For more information contact Brian Rodrock, Rodrock Homes, LLC. (913) 851-0347, brodrock at rodrockhomes dot com.
###