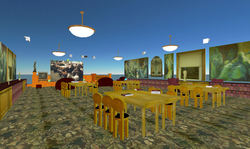 They can put a lecture in or note cards inside an object
Indiana, PA (PRWEB) November 13, 2007
Students of the Robert E. Cook Honors College on the campus of Indiana University of Pennsylvania are creating a whole new world through computer generated imaging and are using it to communicate, learn and explore anything, anywhere, anytime with their alternate personas in a second life.
A female, college aged student with a blond pony tail, a great sense of style and deep intellect, can teleport into the Great Hall at RECHC to read a book, relax in a chair or have a conversation with someone in another country. She is part of a new era in learning -- an Avatar with an intrinsic, educational value. She is a three-dimensional model representation of and created by her user, student Erin O'Brien.
O'Brien and fellow student Michael Daniel are recreating the RECHC in an online simulation using California-based Linden Lab's computer program called Second Life, an online virtual world, to interact with the real world.
"We're bringing the RECHC to the Internet with a physical representation of our ideas demonstrated through our curriculum and discussion groups," said O'Brien, a sophomore social studies education and Asian studies major from Glendora, CA. "I've talked to people in Holland, Spain and the UK. You can speak in a foreign language and ask questions and learn from them."
Motivated by their creativity, O'Brien and Daniel spend much of their free time developing their simulation. "We just started building this because we could," said Daniel, a sophomore economics and philosophy major from Mechanicsburg, PA.
Daniel has also developed a Teaching Heads Up Display (HUD) which can be used by professors who write lectures ahead of time and drop it into an object. That lecture will be delivered line by line to students during a class using Second Life or could even be read at another time.
"They can put a lecture in or note cards inside an object," Daniel explained. "Professors can use it as a presentation or allow students to pick it up and read it again."
Second Life has opened a new realm of possibilities for learning. The unique setting allows students and faculty to optimize their time while utilizing cutting-edge technology to provide an interestingly conducive learning environment.
"It allows students and faculty to interact with each other outside of normal classroom hours in a three dimensional world," said Dr. R. Scott Moore, an IUP history professor. "It provides students the chance to experience locations and exhibits virtually that they might not have a chance to see in person, archaeology sites or the Sistine chapel for example. For students interested in technology it offers them the chance to explore a new media for interaction and better appreciate the possibilities it offers for businesses and education."
The RECHC simulation operates on the university's Crimson Island, which is currently being developed by IUP faculty and students. Moore is working with Dr. Bev Chiarulli of IUP's anthropology department to develop an additional SL island exclusively devoted to archaeology that is funded by an IUP Academic Excellence and Innovation Award.
The island will include virtual recreations of Moore's work with the Pyla-Koutsopetria Archaeological Project in Cyprus and Dr. Chiraulli's work in Belize with Mayan culture, and an underwater archaeology site. They are working closely with Dr. Allen Partridge of the Applied Media and Gaming Center who, along with his students, is helping design and build the site. "We'll go to Crimson Island and have conferences for everybody when this is ready," Daniel said.
O'Brien and Daniel have created prims using complex, 3-D CGI (computer graphics imagery) to generate the complete layout and detail of the RECHC's Great Hall, where students socialize, study and utilize its library. They also plan to recreate all of the classrooms, offices and the lounge.
"Each of the things in this hall started out as a primitive object," O'Brien said. "The tables started out as a box and cylinders. We trimmed out the details from there."
Now the tables have the same appearance as those in the Great Hall with beveled edges and wood grain. The simulation of the room's décor including the walls, ceiling, windows, carpeting, artwork, chairs and books is detailed.
Moore said the SL technology is already incorporated into IUP classes and his plans are to bring it to two of his classes next semester. Moore's digital history class will introduce students to changes that digital technologies are bringing to the way historians research, write, present, and teach the past.
"It will examine literature on this media and study closely the state of digital historical work by scholars, teachers, archivists, museum curators, and popular historians," he said. "As they examine this work, students will also explore the fundamental philosophical and ethical issues raised by efforts to put history on line. It will also provide a basic introduction to some of the most common software used by historians to create digital history, including an introduction to "Second Life."
For Travel blogs from Dr. Moore's students in Cyprus got to http://realtravel.com/cyprus-trips-i5416404.html
# # #