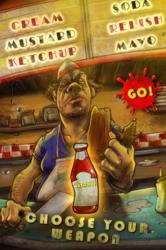 New York, NY (Vocus/PRWEB) December 28, 2010
The Spray Face app by Elite Gudz was released on iTunes today, combining photo prank elements with a platform of art and design.
Users find themselves at Sullie's Jerk Chicken Diner, where the establishment's name and main dish directly represent the owner. Sullie doesn't much care for the likes of you or your friends; at his diner, anyone is fair game for a virtual food fight.
Features:
*Choose any face from your photo album
*Variety of gooey sprayable condiments
*Easy jerk and spray action
*Share the picture with Twitter, Facebook & Email connect
Drawing on talent from comics, street art and graphic design, the artists from Elite Gudz create applications that are surprisingly rich in wit and backstory. This is especially prevalent in their latest Entertainment app where the main objective is to plaster your friends faces with cream, mustard and relish.
Spray Face is available for free on the iPhone, iPod touch and iPad.
Elite Gudz is a creative studio founded by artists and creators from graffiti, comics and designer toys. Their first app, Graffiti Spray can, was a creative experiment for the group that climbed to the #1 spot in Entertainment and Free apps around the world within days of its release. This success of Graffiti Spray Can shifted the focus of the studio onto app and game development. Elite Gudz uses apps as a living medium where design and technology work together seamlessly in an interactive experience.
Download Spray Face from iTunes at http://itunes.apple.com/us/app/spray-face/id411447586?mt=8#
Contact:
Brian Ferrara
Elite Gudz
Phone: 631-768-3186
http://www.EliteGudz.com
Brian(at)EliteGudz(dot)com
###