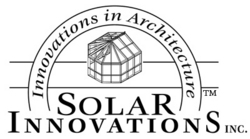 Tilt-n-Turn windows by Solar Innovations are a unique combination of casement window and ventilation unit
Myerstown, PA (PRWEB) January 30, 2008
Solar Innovations, Inc. (http://www.solarinnovations.com), a custom manufacturer of residential and commercial folding and sliding glass doors, walls, windows, and screens, conservatories, greenhouses, and sunrooms, announces the release of two new specialty windows which can stand alone or be incorporated into any Solar Innovations structure.
Solar Innovations' Research and Development Team has recently released two new ventilation features which can be built into any Solar Innovations glazed structure or an existing structure. Tilt-n-Turn and double hung windows are now available from Solar Innovations in standard offerings of all aluminum or aluminum exterior/wood interior compositions.
"Tilt-n-Turn windows by Solar Innovations are a unique combination of casement window and ventilation unit". Opening both as an in-swing casement window and an inward tilting ventilation option, Tilt-n-Turn windows are an excellent choice of ventilation without obstructing a sightline. These custom features can be designed to meet almost any structural requirement and enclosure need.
The Tilt-n-Turn windows can be utilized either as a standalone product or be incorporated into a Solar Innovations structure. Customers can combine any number of the Tilt-n-Turn style windows to create a unique feature in their home. The in-swing and tilt, out-swing casement style, Tilt-n-Slide, awning or hopper style, and even fixed windows all utilize the same metal profiles, allowing for seamless integration with all styles of windows, and providing a uniform appearance.
In swing Tilt-n-Turn options create natural ventilation with a security feature by tilting in at the top. They open inward, allowing for easy cleaning and an unobstructed view when desired. Tilt-n-Turn windows are currently being tested to a design pressure of ±60 and for Florida Impact Certification.
Solar Innovations' specialty hung windows are configured as double or single hung windows, depending on customer preference. Tilt-in options are also available to allow for easy cleaning. A thermally broken aluminum frame, and a one inch insulated glazing option greatly improve thermal performance when compared to the industry standard. Grid and fixed lite options are available to increase the overall aesthetic appeal and meet each customer's design plan.
The hung window system, which has an overall frame depth of four inches, is currently being tested for Florida Impact Certification and design pressure rating of ± 60.
By utilizing Tilt-n-Turn windows, single or double hung windows, and other ventilation options in glazed structures, Solar Innovations can aesthetically match the other fenestration products within the structure and surrounding architecture. This integration creates a balance of architectural elements and meets virtually any need, while offering customers several methods of ventilation.
Solar Innovations (http://www.solarinnovations.com) will be present at the International Home Builders Show in Orlando, Florida from February 13th through February 16th in booth #S11556. Please contact the marketing department for additional information on upcoming tradeshows or their new ventilation features at skylight @ solarinnovations.com or call 800-618-0669.
###