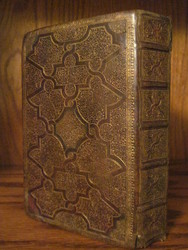 This is our best show ever, with a large range of merchandise and some surprises.
Stafford, TX (PRWEB) October 16, 2010
A jacket worn by John Wayne in the movie "McLintock!" and a Superman shirt and baseball cap signed by Kirk Alyn, the original Superman who lived in The Woodlands, are among many celebrity memorabilia and autographs that will be for sale at the 7th Annual Houston Vintage Book, Postcard & Paper Festival, sponsored by the Texas Booksellers Association and DM Promotions on October 23rd and 24th. The festival will also showcase rare books, including an 1884 British 1st edition of Huckleberry Finn, an exquisitely bound leather and ivory guestbook owned by a Houston woman of Norwegian descent, and a beautiful 1637 book with Fanfare binding by 'Le Gascon,' a French master bookbinder.
"I was friends with him for years," George Mabe, a dealer from San Antonio said of Kirk Alyn, the original Superman and how he acquired his autographed shirt and hat. If you stop by his booth, he will recount some great stories, including how they took promotional shots of him "flying" in those days. George will have on hand other signed Superman memorabilia, western comic books autographed by Gene Autry, Roy Rogers, Lone Rangers Clayton Moore and John Hart, autographs, posters and photos of Willie Nelson, Waylon Jennings, Jessie Coulter, John Wayne, Jimmy Stewart, Elvis, Vivian Leigh and Clark Gable. He is also displaying a pair of fancy Roy Rogers boots.
The leather bound book dated 1637, with a similar copy held in the SMU Bridwell Library in Dallas, is a Christian devotional with lovely copperplate engravings. It was bound à la fanfare and au pointillé, superbly combining two different binding styles: the first by using elaborate gold-tooled compartments, leather inlays, and breezy floral scrolls, and the second, as the French word suggests, by using delicate tools made up of a complex arrangement of tiny dots. "Le Gascon's bindings are very rare and his fanfare bindings especially so, a fact which is hardly surprising when one stops to think that hundreds of hours must have gone into each of his amazing creations," said David Nutzman of StoneMonkeyBooks of Houston. "The most gorgeous work in my collection, however, is of a more recent vintage, probably the late 1930's. It's a guestbook, with entries for a forty-odd year period for social events held by a Norwegian woman who lived here in Houston." The guestbook is bound in a leather mosaic style, with a central inset of decorative carved ivory with gilt and gauffered edges-- edge decoration made with heated brass tools. The entries document the years between 1948 and 1982, recording, in both Norwegian and English, a variety of social events and miscellaneous notes; including dinner and birthday parties, anniversaries, church functions, and Saturday afternoon tea-parties.
Bill Bassett, a dealer from Austin will be exhibiting a number of great paper items including vintage picture postcards of a 1920s Galveston bathing girl revue, a shot of 1906 main street and hotel League City, Texas by photographer F. J. Schlueter from Houston, an 1880s high wheel bicycle in El Paso, Texas, and an advertising trade card printed by Currier & Ives, New York, copyrighted in 1880, which features a comical image of Uncle Sam smoking a large cigar and using his toes to support the aim of his rifle. The latter is titled "A Crack Shot."
"This is our best show ever, with a large range of merchandise and some surprises," said organizer Dan Monsanto, of DM Promotions. "If you have things you want to sell or have appraised, we have dealers knowledgeable in many genres." The event features two days of buying, selling and trading of over one million antique, vintage, and modern postcards as well as new, used and rare books and paper collectibles exhibited by 43 dealers. There will be rare historical documents, autographs, paper currency from around the world, matchbooks, antiquarian maps, vintage business and shopkeeper papers, magazines, original animation art, sheet music, artist-signed prints, some prints from the 16th-19th centuries, hand-tinted cards, paper dolls, valentines, vintage Christmas and children's images plus much more, suitable for collecting, scrapbooking and home decorating.
Booksellers from across the region will have a wide variety of books including fiction, non-fiction, hardcover, paperback, modern and rare first editions, collectible Texas literature and rare out of print titles. High quality books include leather bound sets, illustrated books from the 18th and 19th centuries, and some richly decorated 19th century trade bindings. Subjects include everything imaginable such as sports, cooking, food and wine, movies, mysteries and thrillers, medicine, biographies, early religious works, Texana, military history and children's titles.
Fun, low cost entertainment for the whole family, the show is also an ideal place to come and learn more about the books, postcards or paper items you own. Bring in that shoebox of old postcards or that folder of old paper memories to sell or have it appraised by experts. And, with some postcards and collectibles starting as low as 25 cents, everyone can walk away with a treasure!
The event is being held at the Stafford Centre Performing Arts Theatre and Convention Center, 10505 Cash Rd., Stafford, Texas 77477, 281-208-6900. Hours are 10:00am to 6:00pm Saturday, October 23rd, and 10:00am to 4:00pm Sunday, October 24th. Admission is $3.50 for adults, good for both days. Children accompanied by an adult get in free. For a map, driving directions and other information including guest author schedules visit our festival web site.
Media contact: Amy McMurrough, McMurrough & Associates Marketing and Public Relations (512) 252-7200, Amy at McMurrough dot com.
# # #