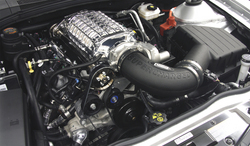 That innocent looking, smooth idling Camaro may blast to 60mph in just 3.7 seconds, leaving you in its dust!
Ventura, CA (PRWEB) July 23, 2010
Supercar performance has always been reserved for the super-rich who could afford the highly prized, limited production Lamborghinis, Ferraris and Porsches. That is no longer the case. The next time you pull along side a 2010 Camaro SS, you might want to show some it respect. That innocent looking, smooth idling Camaro may blast to 60mph in just 3.7 seconds, leaving you in its dust!
Since its introduction, the 2010 Camaro SS has been a favorite of the nation's top specialty car builders such as Hennessey Motorsports, Lingenfelter Performance and Livernois Motorsports. They each have their own interpretation of what a personalized Camaro Supercar should be, but they all agree that the single key engine modification is a Magna Charger MP 2300 supercharger, the same supercharger technology found on the famed ZR1 Corvette and Cadillac CTS-V. Track-proven and featuring O.E. dependability, Magna Charger's new 2010 Camaro supercharger system develops 492 RWHP and 455 ft. lbs. of RWTQ with no other changes. Better yet, it is legal for installation in all 50 states under EO# D-488-15, and requires no modifications to the vehicle for installation.
At the center of the Magna Charger systems are Magnuson Products 2300 TVS superchargers that use a four-lobe rotor pack with a high-twist 160º helix for improved efficiency (requires less power to drive), cooler discharge temperatures to accommodate premium pump gas (regardless of where you live), and it is much quieter than previous 3-lobe rotor designs. Additional efficiency is the result of the unique bypass valve that reduces parasitic drag during normal driving. The supercharger is essentially bypassed and the rotors simply "freewheel" until you step on the throttle and the supercharger responds with instantaneous boost and acceleration. The Magna Charger also interfaces seamlessly with the GM Active Fuel Management system (some models) that cuts the engine to four cylinders at light throttle.
The Magna Charger 2010 Camaro supercharger system comes complete with a new, patented high-velocity aluminum intake manifold, integral water-to-air intercooler, and all necessary brackets, connectors, hardware and any needed specialized tools. The supercharger has a self-contained lubrication system that is maintenance-free. Calibration is included with a handheld computer programmer that re-programs the factory ECU and stores the original calibration for possible future use. A full instruction manual with color photos makes the step-by-step installation process easy to follow. The supercharger is available in show-winning Chrome Kote or a stealthy black powder coat finish.
All Magna Charger supercharger systems carry a Standard 3-Year Limited warranty on the supercharger system, and Magna Charger also offers an optional 36,000-mile/3 Year Powertrain Warranty. For more information please contact: Magna Charger, 1990 Knoll Drive, Ventura, CA 93003. Phone: 866-534-6417, or visit Magnuson Products on the web at http://www.magnacharger.com/.
# # #